They say that "a picture is worth a thousand words." Unfortunately, that is only true for images that people actually want to look at.
These days, people have become addicted to Instagram. When we are out shopping, eating, jogging, or even going to the bathroom, we are looking for opportunities to snap a photo and share it on our Instagram app.
However, sometimes it comes as a nasty shock when nobody likes our photo. But that tends to happen when your picture is of low-quality, or is blurry and unappealing.
Celebrity chefs Jamie Oliver, Gordon Ramsay, Nigella Lawson, and David Chang understand this better than anyone, and with millions of followers on their Instagram accounts — which feature not just photos of their recipes, but pictures of dine-outs and candid personal photos —have successfully embraced the power of pictures to market their brands.
Unsurprisingly, the better the images, the more engagement you can expect to have. However, a common problem with high-resolution images is that they have unnecessarily huge files that take a lot of time to load. This is of some concern since 53% of online visitors will leave your website if it takes more than 3 seconds to load.
But don't panic!
You can increase the speed at which your website and images load by reducing your image size without suffering from loss of quality. Take a look at some of the best online image optimizing software that work like magic.
Related: 21 Image SEO Tips
Straight to the point – what do I use?
My go-to image optimizers are:
Shortpixel: As of July 2019, I started using ShortPixel and it's BY FAR the best image optimizer I've ever used.  I've optimized all existing images and new images as well as chose to convert images to WebP format.  I strongly recommend this service if you want to improve image speed.
Jpeg Mini:  I have the download version so I can quickly optimize images on my computer.  It's a very good tool.  The downside is this only does .jpg files (not .png).
Optimizilla:  When I need to optimize .png files, I use this.
Bulkresizephotos.com:  Then I need change the size of several images or graphics at one time, I use this.
1. ShortPixel Image Optimizer
This is the BEST image optimizer I've ever used. I just deployed it on all my niche sites (including Fatstacks) on July 16, 2019.  Even though I've optimized images all along, ShortPixel is shaving off an additional 30% on all images (on average).
The best part is you can choose to convert images to the WebP format which is the latest format – images load even faster.
The price is good too, but the cost does add up if you choose to opimize thumbnails.  Each image on a site usually has several thumbnail sizes so you might think you only have 2,000 images, but when  you optimize say 6 thumbnails for each image, that's 7 x 2,000 = 14,000 images to optimize.  For me, the big up front expense is worth it if my sites load faster.
The online image optimizer, Optimizilla, produces great-looking photos with the lowest file sizes. The tool allows compression of JPEG and PNG files, and compares the before and after versions of the photo quality with the help of a very cool and convenient slider. This is a great feature since it helps you to determine how low you can go without losing any image quality.
Another great thing about Optimizilla is that it supports bulk file upload and bulk compression. You can upload a maximum number of 20 files and customize the compression level of each image individually, with the help of the instant preview feature. The software uses a combination of lossy compression algorithms and best optimization practices to shrink down your photos to the optimum size.
One downside of this software is that it does not let you convert PDF files; however, this may not be of concern to anyone. If it does matter to you, you can hop on to Toepub, the sister site of Optimizilla which can convert .pdf files into several different formats at no cost.

The EWWW Image Optimizer is available as an online tool (though you will need to register for it) as well as a WordPress image compression plugin. It is very simple and easy to use and can automatically compress your images as soon as you upload them to your blog. It can also optimize photos generated by other WordPress plugins, which are stored outside your media folders.
Since it compresses files on your own server, you don't need to register for an account to get an API key. However, we recommend you do sign up to avail some of the additional features that the software offers.
For JPEG and PNG formats, the plugin applies compressions with options and pares down the image to the smallest size without any losses. The decreased sizes result in faster load time and more efficient backups.
WP Smush plugin is easily one of the (if not the) fastest and user-friendly image optimizing plugins for WordPress that reduce the size of your image without compromising the quality.
The WP Smush allows you to compress JPEG, PNG, and GIF images which have a maximum size of 32 MB individually or in bulk using its dedicated Smush servers. The bulk option lets you optimize up to 50 images at a time. The plugin strips away the metadata from the files, optimizes JPEG compression, convert GIFs to PNG format and removes un-used colors from indexed pictures.
The software also allows you to set the maximum resolution to scale down the image size.
One downside is that using its free version results in a slight drop in image quality. However, this can be fixed by subscribing to Smush Pro for a small fee.
WP Smush also works well with NextGEN Gallery and WP Retina 2x for high quality image display with no quality depression.
Don't freak out with the creepy feature image of Imsanity. The WP image compression plugin claims to scale down large images to "sane" sizes — and it does not disappoint.
Once it is activated, Imsanity does not involve any more user interaction. The plugin automatically scans your website for uploaded images that have the specific width and height you gave it and shrinks all the other images to that size automatically from there on. It efficiently compresses large-scale images to smaller sizes that are still more than big enough for website use.
One of its best features is that you can customize the width, height, and quality of your images. It also auto-converts BMP files to JPG files so that image can be scaled, and auto-converts PNG files to JPG file for improved site performance.
Hammy is a very dynamic WP plugin which is great if you want to optimize images for various screen sizes, including mobile phones.
Hammy takes your original image and regenerates a number of smaller sized images. When a visitor comes to your site, he or she sees the image in a size that is most appropriate for their screen size
(or the smallest size possible). This results in a faster and better mobile user experience. It also deals with classes and alternate tags from the original images. It only works for images within your posts and pages, but not on custom post types.
One small drawback of Hammy is that you need to spend a few minutes tinkering with its configurations and breakpoints before you get it right. But once that's done, it is easy sailing.
Bulk Resize Photos is a very user-friendly online image compression tool, which provides various options that allow you to scale, change file size, give exact dimensions, mention width, size, and longest side, and add watermarks to your image.
Its "longest size" option allows you to choose a set amount of pixels for the longest side of the photos. For example, if you choose 1024 pixels, landscape photos will have a width of 1024 pixels and shorter height and portrait pictures will have a height of 1024 and a smaller width.
The tool is also lightning fast as photos are compressed on your computer, not transmitted to its own servers. This means you can resize up to 150 images in just 60 seconds.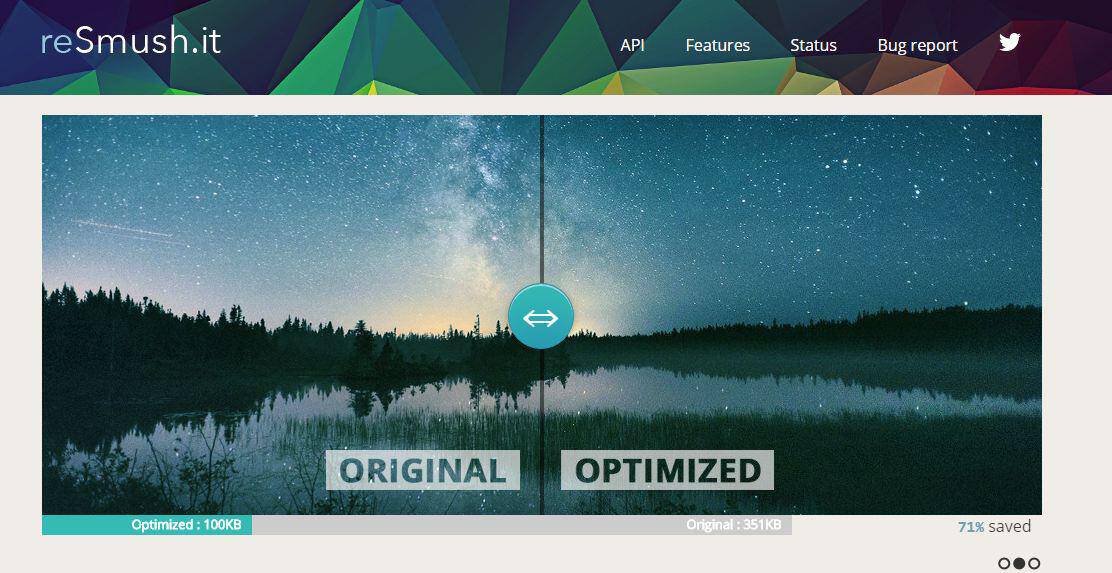 reSmush.it is one of the most popular image optimization plugins. It allows you to compress your image size without depressing its quality by using its dedicated API. The great thing about it is that it allows you to choose optimization levels for your uploads.
However, there are two major drawbacks: one is that it does not offer different compression levels, and secondly, it only accepts JPG, GIF, and PNG files up to 5 MB.
Despite these drawbacks, is the software is used by more than 300,000 websites working on different CMS, including Wordpress, Joomla, Drupal, Bash, PrestaShop and Magento.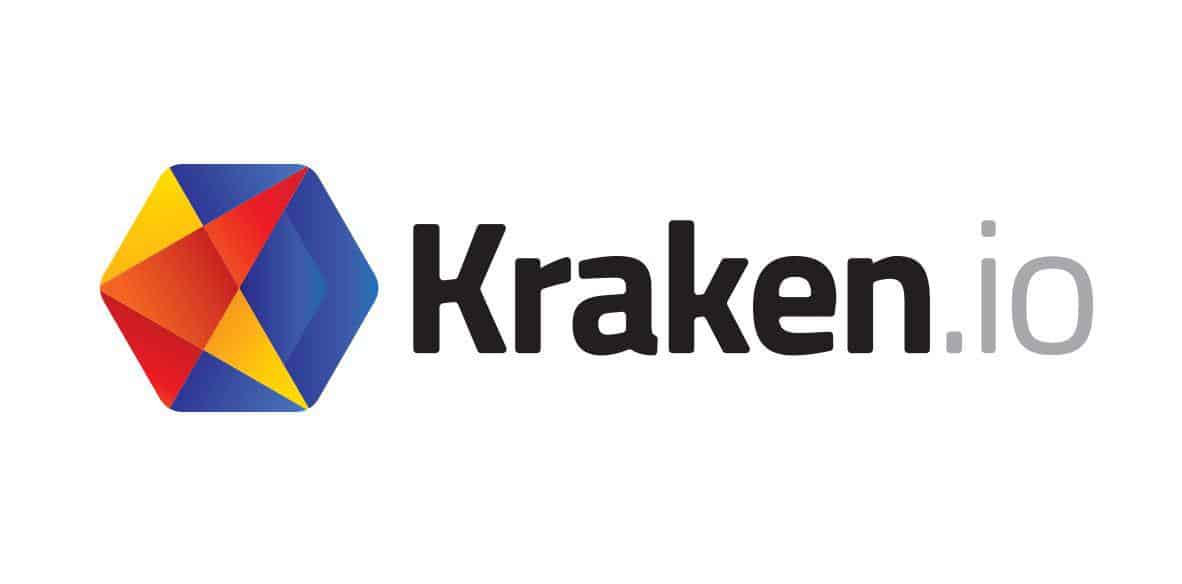 Kraken.io comes highly recommended by a lot of bloggers. The online tool allows you to save time by bulk uploading JPG, GIF, and PNG files in one go. What's really cool is that you can download all compressed file into a zip folder and allows you to import files from Box, Google Drive, and Dropbox and send files to Dropbox.
The free version allows you to compress images with a maximum size of 32 MB. However, you can only convert up to a total of 100 MB of photos. Additionally, its pro version comes with a lot of added options like unlimited image sizes, multiple image sources, and image resizing features.
In fact, names like Microsoft, NASDAQ, Tesla, Kaspersky, and Hallmark place their trust in Kraken.io.
We know that optimized pictures help our website rank in the search engine result pages (SERPs). This wonderful WP tool goes the extra length and not just compresses your picture size but also incorporate SEO-recommended Alt text and Title text in all your images.
Alt text is instrumental in describing your images to the search engine and helps it show up your image in the search engine results in response to a user's query. Title text defines the image to a website visitor when they hover their cursor above it.
This means your images are W3C and xHTML compliant as well.
Tiny PNG is one of the oldest and well-known free image optimization tools with tons of options to compress your image. The tool accepts both PNG and JPEG files for compression.
Tiny PNG allows you to bulk upload 20 images and convert up to 100 images in a month. After compression, you can either download your images on to your computer or export it to your Dropbox. Tiny PNG also comes with a WordPress and Magento plugin, which avoids the hassle of going to your website to optimize the images.
One downside of this tool is that your image size should not be more than 5 MB. However, that means it can still work on a lot of images.
Compressor.io is one of the most versatile image compression tools that does not lose image quality during size adjustment.
It is very flexible and can work with JPEG, PNG, GIF and SVG files easily. But more importantly, it can reduce file size up to 90% without any quality depression. It also comes with a slider that lets you view the image quality before and after compression.
Its one drawback is that it does not have a bulk upload option, so you have to optimize your photo one by one. But the stunning results are worth it.
JPEGmini reduces your image size to a mini version. The tool promises to reduce file size down by 80% without any loss in quality, so that you can enjoy the best uploading speed and faster performance.
It comes with a batch resize option that allows you to resize any number of photos at a time and gives you a comparative view of both the original and optimized image with the help of a slider.
Its Creator version also comes with Lightroom and Photoshop plugins through which you can directly export your photos and optimize them to the lowest possible size.
The CW Image Optimizer plugin is based on the WP Smush.it plugin. However, unlike the Smush.it plugin, your website will not be uploaded to a third party server but remain on your own server. This means you never have to worry about your privacy or CW Image Optimizer's terms and conditions
The plugin uses Linux littleutil and JPEG-recompress image optimization tool that result in less quality loss, faster loading time and decreased used of bandwidth. Since the file size becomes smaller, less space is taken on the server also.
ImageRecycle is a multi-purpose compression tool that can convert your JPEG, PNG, GIF and PDF files with impressive results. It has an API which developers can use to create their own compression tools.
Not only does it optimize your image files, but it also assesses your website and sends you a report that highlights uploaded images that need to be compressed or optimized in order to improve your website's performance.
Image Recycle supports several CMS including WordPress, Joomla, Shopify and Magento, so you don't have to separately visit your website every time you need to get your images compressed.
On a 15-day free trial period, you can optimize images with a total size of 100 MB. For unlimited image optimization, you can subscribe to their very affordable paid plans.
Image Recycle also has some very interesting offers; for bloggers, they will give two months of access with a quote of 3GB if they write about the optimization tool. For developers, they have launched an affiliate program which allows them to earn 30 percent commission.
GiftOfSpeed is a multi-purpose online tool that aims to improve your loading speed by improving various aspects of your website. Its image delivery tool effectively compresses JPEG and PNG images through the use of multiple compression techniques. As a result, you get the minimum file size possible without any loss in quality.
The one downside of this tool is that although you can bulk upload multiple PNG files, you can upload only individual JPEG files for optimization. Still, this is of low concern seeing as this online tool provides a whole array of speed optimizing features.
ImageOptim is one of the very best free online image compression tools for Mac devices. The software uses lossless image compression which means the quality of the photo remains unaffected after conversion.
This online source supports various formats like JPEG, PNG, and GIF files. The great thing about this tool is that it is open and totally free. It also integrates some of the best compression tools, like Zopfil, PNGout, JPEGoptim.
ImageOptim is configured to strip metadata like EXIF and geolocation of the image. However, you can turn off this option by going to "Preferences" in order to keep your metadata.
The Lazy Load plugin is designed to improve page load times. The best thing about it is that it does not require configuration as it works out-of-the-box.
The Lazy Load plugin uses jQuery.sonar, which allows images to load only when it becomes available in the viewport. This code of this tool was written by the TechCrunch 2011 Redesign team, the WP VIP team at Automattic and Chief Engineer Jake Goldman at 10Up.
This is one of the best free online image resizing and compression tool since it comes with a lot of added features which provide zing to your photos.
The Resize Photos tool is compatible with a variety of formats including .jpg, .png, .gif, .bmp. and .psd and allows you to upload your images online. You can also determine what image quality you want from a range of 1 to 100 percent.
The best part is that this simple tool comes with a variety of image effects options like captions, borders, photo effects, shadows, reflections and rounded corners.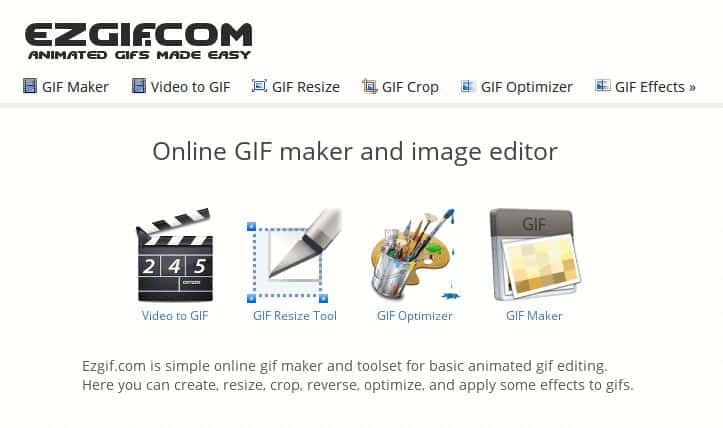 Don't be fooled by its name. EzGIF is an online image optimizer that is ideal for compressing not just GIFs but other popular image formats like JPEG and PNG as well.
The tool offers efficient optimization of your images and also come with added options, like cropping, rotation, adding overlay and more, which you can use on your image before optimization. However, with GIFs, it goes to a whole new level by allowing you to customize, create, resize, and optimize GIFs. You can upload up to 2,000 image files as long as they come up to a total of 100 MB in file size.
Should you optimize images?
One of the biggest concerns, when people decide to use free image optimization tools, is that they are afraid that they might end up with a picture with worse quality than the original. These pictures often become distorted, blurry, and pixilated, and completely ruin the beauty of your image. Hence, it is important to select only those tools that do not compromise the image quality as it can damage your brand's performance.
All of the image resizing and optimization tools above make it their top priority to keep the quality high. As mentioned above, these tools either have a slider that gives a comparative view of the before and after photo or offer you a scale from where you can choose the image quality from 1 to 100 percent.
For example, in the case of Resize Photos, you can pick what image quality you want from a scale. Optimizilla and Compressor.io are two of the very best online image compressor tools. While Optimizilla allows you to bulk upload up to a maximum of 20 files at one time, Compressor.io works one at a time.
There are dozens of free image optimization tools and plugins which you can use online, with no cost. If you have no idea what type of image compression tools you need, our list should be enough to help you find a tool that is perfect for you. If you have no experience, you can choose to give tools with simple features a try. If you have high levels of skills, our list contains several online image compression tools that come with a variety of added and advanced features.
Although it is easy to overlook, making sure that your image is of high quality and of the appropriate size, is one of the most important aspects of your website design. In some cases, a single picture can be a difference between someone leaving your site in seconds or you getting a life-long paying customer.
Jon runs the place around here.  He pontificates about launching and growing online publishing businesses, aka blogs that make a few bucks.  His pride and joy is the email newsletter he publishes.
Hyperbole?  Maybe, but go check it out to see what some readers say.
In all seriousness, Jon is the founder and owner of a digital media company that publishes a variety of web properties visited and beloved by millions of readers monthly. Fatstacks is where he shares a glimpse into his digital publishing business.