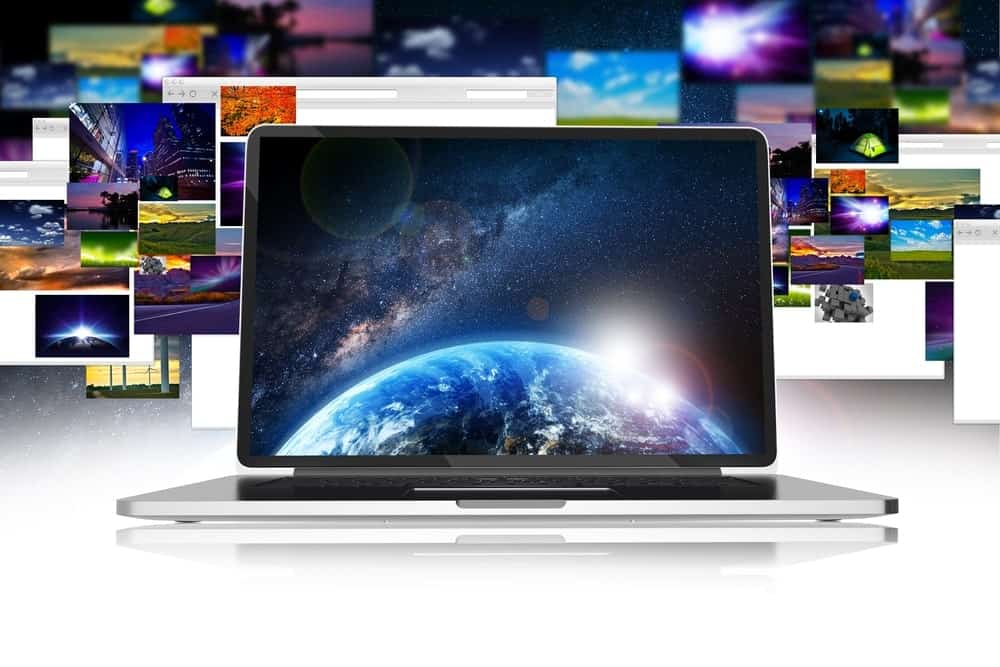 WordPress gallery plugins can help make your blog look really attractive, depending on the content of your website. It can be a really wise decision to install them since the default installation of WordPress lacks some functions and features that the plugins can help you with. With the default version, you will have to keep it rather basic and can't do anything fancy. If you actually want to impress your audience with the media you are uploading then you can install any of the plugins below.
Many free versions of plugins are available which can really enhance the overall look of your blog. They are also available in many different user levels from minimal to complex. Setting up most of these amazing tools for your blog will take no time at all, which means you won't struggle even if you don't have much technical knowledge. Every blogger will end up having an outstanding time creating their portfolios and galleries on WordPress.
It doesn't matter whether you have a photography website or you are a travel blogger, you can definitely benefit from the stunning galleries that the plugins will create. Do make sure that you optimize your images so that the final look of the website looks extremely attractive. Another reason for this is because no one wants to go through a photo gallery where the images are taking too long to load.
Here are some of the best WordPress plugins that you can install for enhanced galleries on your website.
Content Views Plugin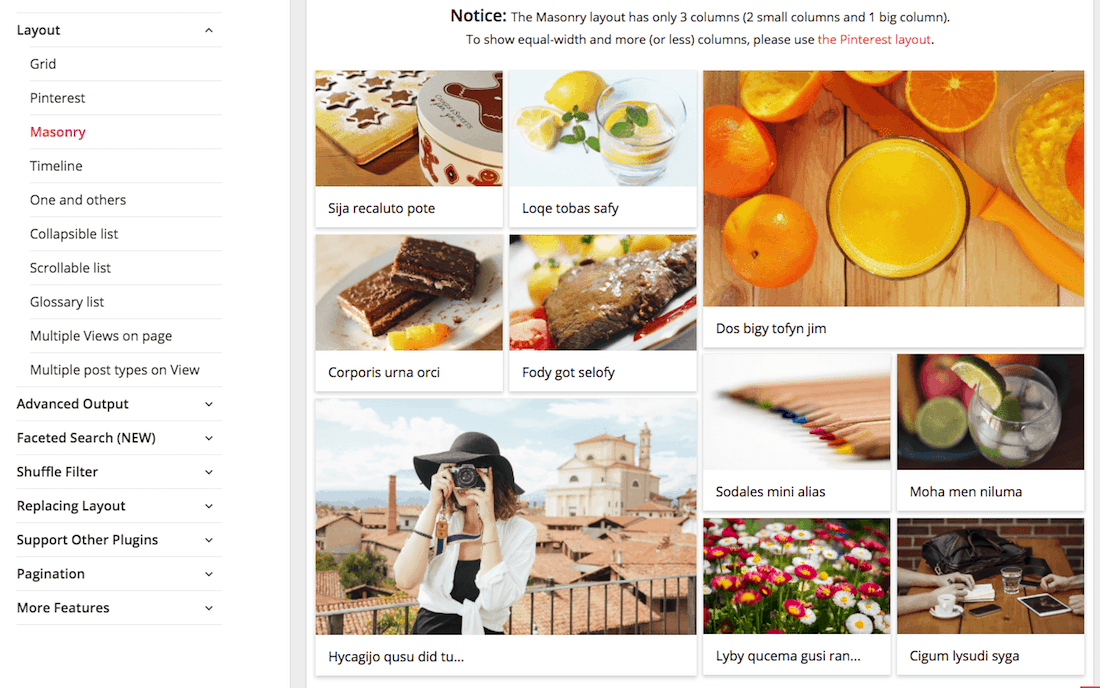 I've been a long time user and big fan of the Content Views gallery plugin.  There's a free version and paid version (called Content Views Pro).
As you can see in the above screenshot, it offers many gallery layouts, but it does so much more.  You can display posts in a variety of layouts as well.
In fact, this thing does so much, I wrote all about it.
Read my full Content Views plugin write up here.
Modula
Modula is perfect for those bloggers who are looking for something more contemporary and creative. The moment the dashboard of the plugin opens, you will begin to see the difference between Modula and other plugins at once. When you are creating a new gallery, you need to set the name and add a description of the picture. You can add a title and subtitle of the image so that the viewer has a deeper understanding of the context the photo was taken in.
Bloggers will also have to specify the width of the gallery in percentages and the height in pixels. You can easily pick the images from the media library of WordPress and create a hover effect so that each image stands out even more. The Modula plugin also creates a random grid box within the limitations of the measurement. The randomness adds a distinct look to the gallery.
However, the best part is that you can control this randomness; you can switch it off to create an everyday, classic looking gallery. After you're done arranging the simple or Lightbox gallery, you can create a unique shortcode which you can use in your pages and posts. You can simply use the gallery you want from the editor instead of copying and pasting it.
Modula is an amazing plugin to pick if you want a modern looking gallery.
Envira Gallery
Envira Gallery has an outstanding number of downloads and 5-star ratings from many users due to its fantastic interface. This is a great plugin for beginners who don't know where to start from since it is one of the most popular plugins online.
This free plugin is a popular one since it has many different tools that you can use to enhance the look of your blog. There is a drag and drop gallery builder in the plugin, which people can use without any need for design knowledge or coding. The galleries are also designed in such a way that they load really fast, which adds to the experience of the user.
The plugin also ensures that the search engine optimization remains intact, which is great for WordPress users who want to attract a larger audience the simplicity of the Envira Gallery also works in favor of the blogger since you can create a slideshow or gallery in a way that truly stands out. If you use it to its full potential, you can create an amazing picture and video galleries to wow your audience.
NextGEN Gallery
NextGEN Gallery has more than a million downloads because it has kept growing since it was launched in 2007. The interface looks really basic but it has several fantastic features. Even the pickiest bloggers and creative photographers will love the different stunning galleries you can make. This will surely make your magnificent creations look more powerful and attractive.
The NextGEN Gallery also has two different options on how you would want to display your content: thumbnail gallery or slideshow. There are also two albums that you can go with to showcase on your blog: extended or compact. You can pick whatever version suits your needs and highlights your work in the best way. The plugin offers lightbox gallery, full control over the size, transition effects, and plenty of other stunning features.
Bloggers can also edit their group galleries into different albums, rearrange pictures, upload photos, and edit thumbnails according to your personal preferences. You can also upgrade to the premium plugin version if the free one isn't enough for you.
Photo Gallery by WD
The Photo Gallery by WD is a really phone-friendly, responsive option to make your WordPress look better. You can design photo and video galleries easy with the many advanced features that the plugin supports. It has hundreds of thousands of active users, making it one of the most popular plugins for WordPress image gallery designing.
The plugin is very flexible since it adheres to the different requirements and needs set by webmaster. You will have plenty of opportunities to add albums and photo galleries to your pages and posts in a highly professional and smooth manner. You can also add multiple widget options to your galleries to make them more interactive in any location which suits you. The content can also be displayed in all sorts of different ways including blog-style, masonry, mosaic, thumbnails, and slideshows. The plugin also has no limitations when it comes to how many albums you can create and pictures you can upload.
The best add-on available in the plugin is known as the eCommerce integration option. You will be able to sell the visuals through the incredibly designed galleries.
GrandWP
GrandWP is a very effective and simple WordPress gallery plugin that will ensure your WordPress site can reach the next level. The plugin doesn't need a lot of investment of work and time to make your online presence of Google more engaging and interactive. You can easily create an enticing photo gallery with a few clicks and shine online.
The tool will allow you to upload unlimited photographs and there are plenty of functions to make them all look great. There are five different views that can help improve the overall appearance of the blog or website. The two types of Lightbox, custom CSS, short-codes, sorting types, and quickly upload times are attractive features for bloggers. The final gallery layout is the perfect way to enhance the user experience and responsiveness. The photo album will also be cross-browser compatible. The plugin also supports Vimeo and Youtube content in case you want to add videos.
Video Gallery
Many plugins are just designed to enhance images instead of boost the overall appearance of videos. Video Gallery can make your travel or vlog blog simply off the charts. It supports videos from Youtube, MP4, Wistia, and Vimeo. The setup process doesn't take a lot of time since it is so simple. This means you can actually create beautiful video galleries without facing too many issues. This makes it great for beginners who need simple plugins, as well as professionals who don't have a lot of time.
The Video Gallery plugin also supports modern themes by WordPress. This ensures that it will accumulate to all types of websites without an issue. You will find that the plugin works great for you whether you have an entertainment website, blog, or business page. You can indulge yourself through the nine gallery layouts, sixteen templates, Lightbox effects, catchy animations, and have effects. The best way to do is to fine-tune the features and customize the look according to your theme and preferences.
Image Gallery by Ape
Image Gallery by Ape can help you decorate your websites and blogs so that they look absolutely stunning to the user. It is one of those few plugins that supports video and image content. You can also ensure that your visitors stick around for a longer time by creating extremely intriguing galleries. You can actually showcase your work in its true, outstanding form instead of through boring, low-quality upload.
The plugin will ensure that your audience loves your website even if they are tuning in from their smartphone. It doesn't take a lot of time to install, configures, create, and add a fresh looking image gallery and add it to your page. It doesn't matter if you are a beginner or a professional, you can get what you need out of this plugin.
It has countless valuable features despite being free. There are many functions like Gutenberg block, hover effect, categories, shortcodes, and more that you can use to enhance your site. You can easily create a gallery that everyone will love.
Photonic
Photonic is an extremely versatile and outstanding plugin that can help you realize your dream gallery. It has plenty of features that you will never find in the default gallery of WordPress. You can add the customized content you want, as well as third-party images from platforms like SmugMug, Google Photos, Flickr, and Instagram. You can also build video galleries through the plugin to make your responsive design come into reality.
You can also use the Gutenberg block builder through Photonic. You can even mix it up by creating some content with Gutenberg block builder and some content without. You can choose from many different layouts to make beautiful galleries and displaying your content in the exact way you want it. It is such an easy plugin that you will run into no problems at all.
FooGallery
The FooGallery plugin creates eye-catching galleries in an efficient and straightforward way. The responsive design ensures that the albums look retina-ready from the get-go. It is ideal for users of every level, as well as developers. You can customize it according to your personal preferences or discover other creative ways to showcase your images that you didn't think of.
There are plenty of features and advanced functions that you can take through this gallery building tool. Despite all the different things you can do, it won't slow down your page loading speed at all. You can create video albums as well through an extension that you can easily enable. After enabling, a new menu item appears that you can add albums through.
The FooGallery plugin also supports custom CSS, visual shortcodes, and lazy loading. You can rearrange the galleries and images as you please via a simple drag and drop option that anyone can use. You can use several beautiful templates to manage, access, and create your media.
Photo Gallery by Supsystic
Photo Gallery by Supsystic will ensure that you have no issues while designing your grid photo galleries for WordPress sites. It has several features and layouts that you can use to create the exact look of the image gallery that you want to put up on your page. This will ensure that Google prefers your page since users will stay to check and click on your photographs. This will improve your website's SEO so that you garner even a bigger audience.
The layouts that you can choose from having different styling including mobile, vertical, horizontal, and fixed. The Photo Gallery by Supsystic also optimizes all the images so that they appear perfectly to the screen size of the smartphone in an instant. You can also take advantage of features like mosaic gallery, full-width, and Polaroid gallery types. It also has a simple watermark function, as well as a caption builder that you can use to make your gallery more interactive and secure.
Robo Gallery
The Robo Gallery plugin is a really proper way to organize your gallery, as well as a quick and easy to use solution for less user engagement. It is considered to be one of the best WordPress gallery plugins because you can effortlessly boost the appearance of your website. You can easily make it look first-class with uncomplicated tools, which makes it so much easier to design your photo gallery.
You can actually create your first live gallery in under a few minutes right after installation. There are plenty of installation and setup guides as well so that you can quickly become an advanced user.
There are fifteen hover animations and different flexible thumbnail layouts. It also adapts promptly to every screen size so that your photo albums look great on desktop screens and phones. The media manager in the plugin has an option through which you can upload the images in bulk via one click. There are other key features that make Robo Gallery great for users including lazy loading, customizing text styles, manual resizing tools, and cache options. You can make a responsive site by adding options like uploading videos, swiping effects, and allowing people to share the picture gallery on social media.
Grand Flagallery
The Grand Flagallery plugin is a really versatile tool that you can use to do a lot of different things. The tool isn't just for image galleries since you can also use it to create video and audio galleries. You will be able to take the users through a unique journey of your travels or highlight your latest photo shoot in a creative way. Every post you make through this plugin will be optimized for SEO and adapt to all phone users. You can even implement touch controls so that browsing on mobile devices is easier.
There are several how-to guides to help you out through the process. You can also change to different versions upon installing so that it is better for you aesthetically. You will definitely be able to create the best video, image, and audio galleries so that your WordPress website looks perfect.
Gmedia Photo Gallery
Gmedia Photo Gallery can create really fascinating and gorgeous videos and photos in an all-in-one gallery format. The plugin will also insert a music player into the website if you want to put audio as well. You can also manage your media files through the Gmedia Photo Gallery itself so that you have ease of use. It is a powerful tool that is still basic and simple so that beginners and professionals alike can enjoy it.
You can set it up how you like so that it is easier to make it work for you. You don't need an advanced level of skill to add or manage the content on the plugin. You can upload as many picture and audio files as you like, as well as create any number of playlists and galleries as you desire. You can also group the pictures into a unique album so that it is less time-consuming to add tags to your pictures. You can also assign relevant tags when you are uploading the files, which makes it easier to add the content in unison.
The Gmedia Photo Gallery also integrates with WordPress to make sure that it looks like a regular post instead of looking out-of-place. You can use the search bar in the admin dashboard to find the galleries and albums quickly. This will ensure that you can make your audience hungry for more creative and fresh content in almost no time at all.
Easy Media Gallery
The Easy Media Gallery provides developers and user the ease of use they need to make creating and browsing photo galleries more interesting. You won't need much time at all to set up a great looking WordPress website. It also has many features that you will need to create interactive and responsive galleries. It is one of the best WordPress photo gallery plugins due to the face that it creates the perfect looking gallery with just a few clicks.
This is a great list for those bloggers who are looking to install premium plugins for free. You will be able to upload images in a creative and fun way so that your WordPress website or blog looks simply amazing. You can enhance your social sharing through the different photo gallery plugins and attract an even bigger audience than before.
Jon runs the place around here.  He pontificates about launching and growing online publishing businesses, aka blogs that make a few bucks.  His pride and joy is the email newsletter he publishes.
Hyperbole?  Maybe, but go check it out to see what some readers say.
In all seriousness, Jon is the founder and owner of a digital media company that publishes a variety of web properties visited and beloved by millions of readers monthly. Fatstacks is where he shares a glimpse into his digital publishing business.