Written by Shawn Hill @shwnhll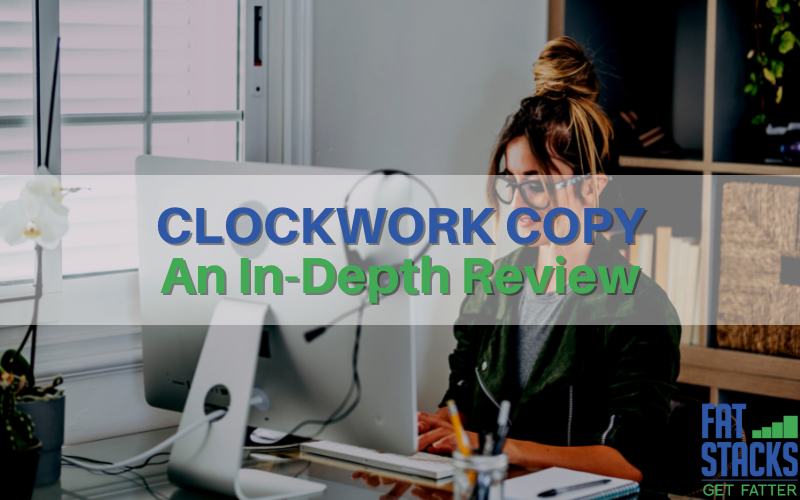 This is my review of Clockwork Copy, an up-and-coming content writing agency. 
In my time in this business, I've turned to content writers for many jobs. Whether it's a simple SEO blog post, or something a bit more complicated, I've seen it all. 
But along with that, I've also had to put up with poorly written work which needed hours of editing and revision afterward. 
In the end, I may as well have spent the time writing it all myself!
Enter Clockwork Copy. 
Their website claims that they're the "content writing agency that's offended by bad content." That's quite the claim. 
And while that got me interested, looking at the pricing structure was where it got even more bananas.
Well-researched content with no fluff, a team of in-house native-English writers, consistency, and reasonable pricing? 
It had to be a scam.
I decided to give them a shot- and, honestly, I was blown away by the results. 
I ordered a couple of short content pieces from them with a fast turnaround, and they absolutely didn't disappoint. 
The writers at Clockwork Copy really do take pride in their work, as the website claimed they would. 
I received my articles back well within 2 days. They were immaculately written, thoroughly researched, and best of all: I didn't have to correct a single thing! Seriously! No editing needed. I added some photos and some internal links, and that's it!
In this review, I'll run through my experience with Clockwork Copy, what exactly it was about their content work that I loved, and why I think they're well worth your time and money.
So, what are you waiting for? Grab a cup of coffee and get cozy, while I take you into the world of Clockwork Copy!
What is Clockwork Copy?
Founded quite recently, Clockwork Copy is a content writing agency that specializes in high-quality, engaging, expressive, SEO-optimized content. 
They currently have 12+ writers on their books, who are all in-house, native-English authors.
They claim that their writers carry out extensive, fact-checked research which is double-verified for plagiarism. 
In my experience, the work I received from Clockwork Copy was very well-researched, SEO-optimized, and required no further editing from my team. A giant tick in my books!
In fact, the "tester" post I tried got published without edits and was ranking on page 1 within about 12 hours. Hard to ask for much better than that!
How Does it Work?
I chose the Tester Package with two short articles. This is available for first-time customers only and has a 100% money-back guarantee if you're unsatisfied.
After I chose my package, Jimmy (the owner) put together a Project Management spreadsheet. My content instructions and requirements were uploaded into a Google Doc. 
It's worth noting that Clockwork Copy uses Google Drive for all of its work- which is pretty convenient- but does require that you have a Google-accessible account. After this, Jimmy confirmed my order and it was sent on to his team of writers.
In terms of what I had to supply, I provided Clockwork Copy with the article titles, a selection of keywords for placement throughout the articles (up to 5), a loose structure and subheadings, the writing style of both, and target word counts. 
(It's not mandatory to specify the word count- and you shouldn't be too specific per section- but if you're working to a budget, this is definitely helpful.)
While the turnaround guarantee is within 72 hours, I had my content back within just 48!
Why Should you use Clockwork Copy?
Have I mentioned the quality of the work? 
Obviously, that was a rhetorical question, because the work quality is such a high standard- I can't stop going on about it!
As a business that's used countless copywriters, freelancers, and agencies- all of whom claimed to have "high-quality writers" on their team- I can't tell you how many times I've been disappointed by the results. 
With these sample pieces at Clockwork Copy, I didn't have to change a single thing.
Not only that, but Clockwork Copy ensures that they double-check all of their writers' work for plagiarism. 
By using two separate plagiarism verification systems, they promise that not a single plagiarized phrase makes it through to the final copy. This guarantees original work only.
Lastly, the pricing. I've never seen content pricing this low. Let me take that back. I have seen pricing this low, but it was really poor quality, but I digress.
Starting at $0.065 per word for 2–10,000 words, Clockwork Copy has some of the best rates in the business. 
Like I said earlier: Bananas.
Related: What Is Quality Content?
What Kind of Content Does Clockwork Copy Produce?
While they're very open to most work, Clockwork Copy won't produce work that covers adult (read: spicy) content, anything illegal or to do with either drugs or smoking, no gambling content, or medical and legal content that requires a qualified professional and expertise.
That being said, while other topics (within reason) are still fair game, Clockwork Copy is not your average run-of-the-mill content creation agency. 
Because they specialize in great writing, first and foremost, they can't work with instructions that would compromise that. 
Examples of this would be specifying the exact word count per section, or the number of times a keyword should appear. Sorry SurferSEO fans.
However, what Clockwork Copy does well is:
Long-form blog posts, 




Opinion pieces,

Informational articles, 

Website content, 

Product roundups, 

and Creative pieces.
And that's only a small sample! 
They can also cover all of the other content creation work, such as sales copy, news, case studies, and website content. 
They will, however, rarely write product reviews or comparisons, or subjects that they don't feel they can produce top-notch content for. 
And, honestly? I respect that. It's too hard to write a decent comparison review if you're not actually testing the product. 
They're open to discussion, however, so if there's something not listed or you really need that product review- get in touch with Clockwork Copy.
Related: How to Get Professional Product Review Videos Made for Cheap
Who are the Clockwork Copy Writers?
At Clockwork Copy, all of their writers have college or professional-level backgrounds in writing. 
That means that not only do they know what they're doing, they actually care. 
I can't stress what a difference that made to the work!
Some of their writers supposedly even have professional writing credentials to their names and have been published by major media outlets.
Because their team is small and focuses on quality, you may find that you're unable to buy a package at certain points in time. 
That's because Clockwork Copy values its writers, and wants to make sure that they're able to deliver the absolute best quality work possible. 
However, just because they're at max capacity for the moment, doesn't mean it'll stay that way for too long; the writers are fast. 
For my sample, I received the work back a full day before the final deadline.
And best of all? You own all of this fantastic, high-quality, well-researched content. I think you'll agree, that's an absolute bargain.
Jimmy, the founder, started as a content writer himself, so he knows a thing or two about the niche site industry and what makes for great quality content. 
His mission is simple but impressive: Create the best content writing agency possible, focusing on absolutely fantastic research and writing- and at the fairest possible price.
And in my opinion? He's absolutely hit the nail on the head with it. 
His team of editors and writers obviously take great pride in their work, so you get quality work, a fast turnaround, and all for a great price point.
What Happens if I'm Not Satisfied with Clockwork Copy?
If you've gone for the Tester Package, as I did, you're guaranteed your money back if not 100% satisfied. 
However, before you get to that stage, you can request unlimited reasonable revisions of an individual piece, providing that it's requested within 3 days of the original delivery date.
This willingness to go above and beyond for the client is one of the things I really loved about Clockwork Copy. 
Many other content writers or agencies would charge for or limit revisions, but at Clockwork Copy, they wanted to make sure that I was satisfied.
Of course, with the article I requested, there was no need for revisions. Knowing the option was there, however, was a great thing to put my mind at rest when I engaged Clockwork Copy's services.
Clockwork Copy will also accommodate modification and cancellation requests, within reason (generally as long as work hasn't already commenced on the article).
How Long will it take for Clockwork Copy to Produce my Content?
My content pieces came back within 48 hours, on a 72 hour deadline. 
Clockwork Copy says that they endeavor to deliver 10,000 words every 5 business days. 
Keep in mind: That's not rough work, either. That's immediately publishable content. 
Obviously, there may be a little wiggle room here, but that's a pretty impressive turnaround on work.
For bulk work (55,000+ words), Clockwork Copy will work with you on your deadlines. 
Where necessary, production times can be juggled and tweaked. I was really impressed by the flexibility and professionalism.
How Much does Clockwork Copy Cost?
There are 4 basic packages you can choose from, as well as the Tester Package. 
These include Dip Your Toes, which is the smallest package available, with 2–10,000 words at $0.0625 per word. 
You can also choose from three other packages: Dive Right In, Like Clockwork, or No Time for Bad Content. 
Each of these has a larger word count available. The more words you go for, the lower the price, with the lowest at $0.05 per word.
These are some of the lowest rates out there for native-English content writers- and skilled ones at that! 
As a comparison, a quick Google search revealed that the top 10 content writing agencies worldwide charge around $0.20–0.35 per word for an order under 5,000 words, plus subscription fees- and many charge by the hour.
Clockwork Copy has no subscription or hourly fees. Simply pick your package, and away you go.
And remember, if you want revisions: These are completely free and unlimited!
Would I Work with Clockwork Copy again?
Absolutely. In fact, I'm already putting together my next few orders! One of which I just tweeted about:
Now that I know what the process is like and having seen the results for myself, I know that Clockwork Copy is a content writing agency I can trust.
I've never worked with a content writing agency where you get the trifecta- work delivered to a high standard, on time, and a pleasure to work with. 
(Not to mention the more-than-reasonable pricing!)
Jimmy and the team at Clockwork Copy were professional and organized. I particularly liked how everything was kept in one place in a Google Drive folder. 
This meant I could easily upload my own guidelines and information, as well as keep track of the articles being worked on for me. The Google Sheet project management was great for staying on top of tasks.
Clockwork Copy is truly doing some of the best content writing out there, and it's all down to their team of professional writers. 
I couldn't recommend them more highly, and I'll be working with them again soon.
What Are the Downsides of Working with Them?
The biggest disadvantage is being late to the party. What do I mean by that? While the speed and quality have been great for me, I've recommended them to a few others and when they're busy, they don't take on new customers.
I know. Crazy in this industry, right?
But they will tell you if they are too full to take on new clients based on the timeframe they promise to deliver content in and the capacity of their writers.
When I asked Jimmy about this, he said he's interviewing more writers and expanding their capacity. So if you want in, but don't get in right away, be patient. A spot will open up and you can get your content.
The Bottom Line
Would I recommend them? Absolutely. But they're not for everyone.
I know there are people reading this who love their less than $0.01/word AI content, so you're not going to be happy paying $0.05-$0.06/word. You'll love the quality but hate the price.
But if you're used to paying $0.15+/word for premium content, you're going to be blown away by the price and quality.
Sounds Great! How Do I Get Content from Clockwork Copy?
Ready to get started with Clockwork Copy? 
Hop onto their website and check out the Clockwork Copy packages (https://clockworkcopy.com/pricing). I bet you're going to be just as flabbergasted as I was at how low they are.
Not sure if you're ready to commit? 
If you're a first-time customer, you can request a Tester Package (https://clockworkcopy.com/tester-package), like I did. 
This includes up to 2,000 words, which can be split between 2 articles or topics. And if you're not satisfied? Request unlimited revisions, or even an entire rewrite. If you're still not happy- get your money back, 100% guaranteed!
Still not sure if Clockwork Copy is the right content writing agency for you? 
Request a sample (https://clockworkcopy.com/samples). That way, you can see if their style and tone fit what you're looking for.
Overall, I highly rate Clockwork Copy as a content writing agency. 
They not only did what was required, but they also went above and beyond- and the results showed. 
Clockwork Copy is clearly all about quality, which perfectly matches my own ethos.
I'm sure this is going to be the start of a beautiful business relationship, and I can't wait to work with them again.
Have you used Clockwork Copy? Tell us all about your experience with them in the comments!
Shawn is currently an SEO Strategist at Forbes with previous SEO experience with other media giants (MarketWatch, ThisOldHouse, and ArchitecturalDigest to name a few). When not wrangling his seven kids, he runs multiple niche sites that earn well over 6-figures per year.