One of my biggest problems as a blogger and niche site publisher is I too often needlessly complicate things.
I've repeatedly throughout this blog discussed keeping things simple; those are equally good reminders for me.
With the launch of a new niche site in 2017 I got off to a rough start complicating the heck out of it. I retrenched everything and am keeping it as simple as possible focusing on ROI.
That doesn't mean it'll be a bad site. Quite the opposite, it's shaping up to be great.
Until this new niche site, I had not built a straight-up Amazon affiliate style site (I call it an Amazon affiliate, but I promote other merchants too). My niche sites tend to be AdSense focused or B2B oriented with a couple local sites thrown in.
It's about high time I toss in a physical product "review-style" site into the mix.
The site is nearly complete. It has traffic, over 100,000 video views on the YouTube channel and is well on its way.
This post sets out what I'm doing to build this site in a straight-forward manner. In fact, the aim of this post is to show you just how simple building these sites should be. More importantly, how to go about it so what you build is an outstanding, helpful site for your target audience.
The lion's share of this post is an actual example of keywords, content to publish and how to promote.
Intro
This is about as close to a sure-thing as you can get online.  You improve your odds if starting out by choosing a niche on the more obscure end of the spectrum.
For example, don't choose blenders.  There's tons of competition for blenders.  If you're amazing at SEO go for it. If you're just getting rolling, find something much more obscure.
An example of an obscure niche is garage space heaters.
That said, the example I use in this post is drip coffee makers which is competitive, but it's a niche I know well and so it was easy for me to provide an in-depth example.
While simple, it takes hard work. I'm talking roll up your sleeves, grind it out for many hours kind of work.  Boring, tedious, meticulous work.  Leave now if you want instant, easy profits.
You also need money.  At least $1,500.  Maybe more, maybe less, depending on the niche.
But in the grand scheme of things, $1,500 to make $300 to $5,000 per month isn't bad.
You also need patience.
You won't get rich overnight.  You won't see a nickel for probably 6 months and even then it may only be a few nickels.
But you can build this in your spare time.  If you have a job, this can work.
The Starting Point
Once you choose your niche, which is a product line, you need to get your hands on 8 to 20 of the products.  This is where you need money to invest.
Yes, it costs money to buy the stuff, but there's no substitute for actually using and testing every product.  You'll see below just how valuable the content you can produce by actually testing the products.
When you buy say 13 of the more popular products within a product line, you will be an expert within that product line within one to two months.
The quality of your reviews and rankings will be second-to-none (or at least can be if you put effort into them).
You will have your own photos and video footage as well.
You will be able to publish the holy grail of affiliate blog posts which targets "the Best X for Y".  Not only will you be able to publish what you think is the best, you can do so confidently based on actual use and testing.  You will have primary source data charts to support your conclusion.  Your opinion will be expert because after testing 10 to 20 products within a product line, you are an expert.
Do other sites do this?
You bet they do and they're cleaning up.
They all started with one review or one "best of" style article.  But that review was awesome.  It took days to write.  In some cases weeks, depending on the complexity of the product.
It only takes one post
This is the best bit of info on this I can give you when it comes to these sites and that is you need only get to the top spot in Google for one buyer keyword to start making some okay money (and maybe awesome money).
Ask any affiliate niche website publisher earning big bucks… it's usually the result of one or a handful of posts.  Okay, some sites that have been around for a long time have hundreds of posts ranked ranked, but then they also have an office full of people working on them.  Baby steps here.
Key ingredient:  Data.  Charts.  Spreadsheets.
This is the stuff other sites will link to because it's helpful and unique.
How do you come up with data?
You get data via testing.
Test every aspect of your products.  Come up with a list of features and performance metrics you can test and compare.  Then actually do the testing and record the results.
In no time you'll have one heck-of-a valuable chunk of data that you can publish on your site and other sites (for a link).
You can then do outreach to other sites asking that they link to you.  Or, you can offer that they publish the data in their reviews/content as long as they link to you as the source.
Raw data you compile is better than original photos.
Here's an example that pretty much steps you through the entire process.  Simple?  Yes.  Easy? No.
Example Niche: Drip coffee makers
Below is a set of questions/data points you could easily test for, photograph and put into a mega table.  This list took me 20 minutes to compile.  The data will form the content for each review as well as your best-of and comparison articles.
Here are performance metrics you can record:
Coffee temperature
Time to brew X ounces
Strongest tasting brews (use same amount of coffee grounds per pot)
Filter types (cone vs. basket vs. reusable)
Ease-of-pouring
Brew method compatibility (K-cup, T-disc, Pot, Senseo Pods, etc.)
Cord length
Coffee volume in pot
Computerized features – do they work?  Example: scheduled brewing / temperature control, etc.
Ease of removing pot. Does it stop brewing when you pull out pot while brewing (i.e. pause and pour)?  Test these.
Does the lid easily come off the pot?
Are there measurement lines marked on the pot (take a picture of each pot)
Coffee maker material: Stainless steel, plastic, other?
Dimensions (measure).  Height is important so people know it will fit under upper cupboard.
Ease to clean (people really care about how easy it is to clean coffee makers).
Does it come with a grinder?
Auto-shut off after X hours?
Dishwasher friendly?  Test this.  Take photos… photos are the goldmine here.
Adjustable hot plate temperature?  If so, what is the range?
Now imagine a chart that had all that data across 10 to 20 coffee makers.  That is one valuable piece of info.
The Content
Once you have your data, photos and video footage, it's time to put together the content onto your site.
Don't over think this.
Here's what I'm doing initially.
Reviews:
Each product gets a written and video review.  "X Product Review"
Best X for Y:
Based on my use and testing, I'll select the Best products for specific uses.  I choose the actual topics based on Keywordshitter.com.  Type into keywordshitter.com "best drip coffee maker for" and see the results.  Here's a screen shot: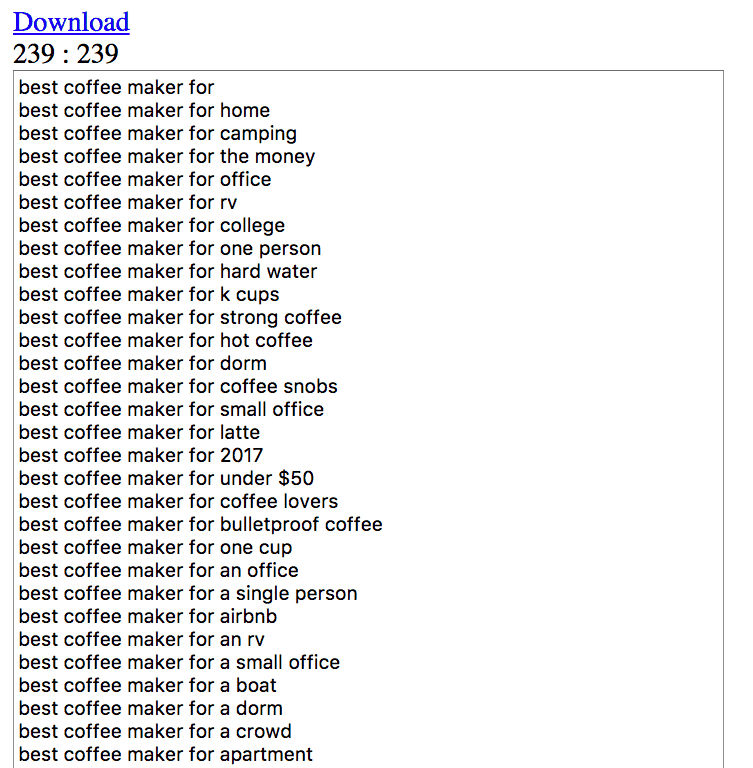 Check out that list.  That's not the entire list either.  That's a lot of "best of" articles.  Many are long tail too.
Informational content:
If you're inclined, add some informational content (non-promotional), but I'm not so inclined to go overboard with this.
Comparison Content:
If you really want to go nuts, do some comparison articles such as Product A vs. Product B.  You'll probably want to stick to comparing the more popular brands/models… the ones that people actually search to compare.  This alone could be another 10 to 30 posts (perhaps even more).
That's it.  That's your site.
Build it and promote it.
There's no reason this couldn't be built within 1 to 2 months.  Within 6 to 12 months, with solid promotion and some updates (you'll want to stay up to date adding newly released coffee makers), you should start getting some traffic and earning commissions.
Promotion:
Focus your promotion on your "best-of" articles.  It's hard these days to rank reviews, especially for physical products, because Google gives top placement to the ecommerce sites if they have customer reviews.  This makes sense; those customer reviews are usually very helpful.
Therefore, ranking your "best-of" is smart because the ecommerce sites don't target those (usually) and it's definitely a search phrase a lot of people search for when researching a purchase.
Youtube:
If you have video footage, video reviews can rank very quickly on Youtube.  I strongly recommend making the videos as you test the products.
Guest posting your data:
Offer screenshots of your data table to other sites for their use as long as they link to you.  Or, a Google Sheets embed.  Anything that let's other sites put up your valuable data on their site.
You may have to approach sites that don't directly compete with you.  For our coffee maker example, you could look for sites that publish about coffee, but aren't promoting coffee makers.  Recipe sites with recipes that include brewed coffee may be interested in publishing your chart as an image or Google sheet embed.  That's just one example.
Fitness/health sites that cover coffee from a health perspective may be interested in your data too.
Just don't expect your friendly neighbourhood coffee maker reviews.com site to publish it and link to you.  They might rip it off, in which case ask for a link or require they remove it, but otherwise, they aren't going to link to you.  You need to think creatively… sites that would like to provide the information while at the same time have nothing against linking to you.
Pinterest:
Make some cool collages of your coffee makers and create a Pinterest board.  I doubt this will go viral (in fact I'm sure it won't) but the board itself might rank for targeted keywords.
PBN for inbound links:
If you're a bit of a risk taker and want faster results, build out a PBN.  I've never done this.  I'm tempted but have no plans to do so.  They can certainly work very, very well if done right.  Again, just make sure you do it right.  It would be a shame to invest all that time and money into an awesome site only to have it blow up on you because you took shortcuts with a PBN.
Free Tool: Use my affiliate website ROI calculator to research ROI for different affiliate niche sites.
Conversion Rate Optimization (CRO)
Before you write a word, you need to read Matt Diggity's article on affiliate CRO (based on extensive testing).  It's a must-read.
Website Domain
Get something you can brand. Don't get "dripcoffeemakerreviews.com".
Get something like CoffeeGeek.com.
If you want to keep options for expanding the site beyond coffee makers, get something that doesn't mention coffee.
Do I build these types of sites?
I am doing this exact process for one new niche site launched in early 2017.  That's why I published this post.  It's this easy.  My site is slow-going because I have a lot of sites, but it will be awesome in the long run.  I have nearly all the reviews done (20 of them).  15 video reviews.  Thousands of photos.
All I have left is to buy a couple of newly released products within the product line and pen the "best of" articles.
I'll probably throw up some info-only articles (but not too many).
Do some site fine-tuning.
Then it's time to promote and start getting traffic.
I won't make much this year, but perhaps next year when a few more products are released, I can do a 2018 update and may see some good results then.
It only takes ranking one "best of" to hit four figures per month profit.
Maintenance of these sites, unless you venture into related product lines, doesn't take much.  Just buy new products and update the content throughout the year.
What if you have more money than time?
We should all be so lucky.
If this is you, hire someone local to do everything for you.  They can do the product testing, record results, take the photos, get the video footage and even complete each review.  They can also pen the "best of" based on the testing.
This won't be cheap if you want it good, but if you're willing to pay, you could end up with on amazing niche site for probably $2,000 to $3,000 (not counting the cost of the coffee makers).
This is not just for physical products
You can easily do this for software products too.  In some ways, that's easier because making videos of software is the easiest type of video to make.
However, you do need to spend time getting familiar with the software, which if complicated software, can take a day or much longer.
You can also do this for informational products although the video option is a little more difficult because there isn't anything to demo.
Aren't these spam sites?
On the contrary, when done well, these can be some of the most helpful sites on the web.
If you're diligent with your testing and genuine in your recommendations, you're helping people.
I've made many purchases based on quality reviews.  I can spot the good reviews quickly.  In many cases, if a particular person or site makes the recommendation, I buy without hesitation.
Sure, I've bought some duds, but I've bought tons of great stuff based on quality reviews.
All you can do is be transparent with your testing methods, models tested and how you choose "the best" product for any given purpose.
Be sure to include your affiliate disclaimer as well.  Transparency is the name of the game with these sites.
Related:

Jon Dykstra is a six figure niche site creator with 10+ years of experience. His willingness to openly share his wins and losses in the email newsletter he publishes has made him a go-to source of guidance and motivation for many. His popular "Niche site profits" course has helped thousands follow his footsteps in creating simple niche sites that earn big.