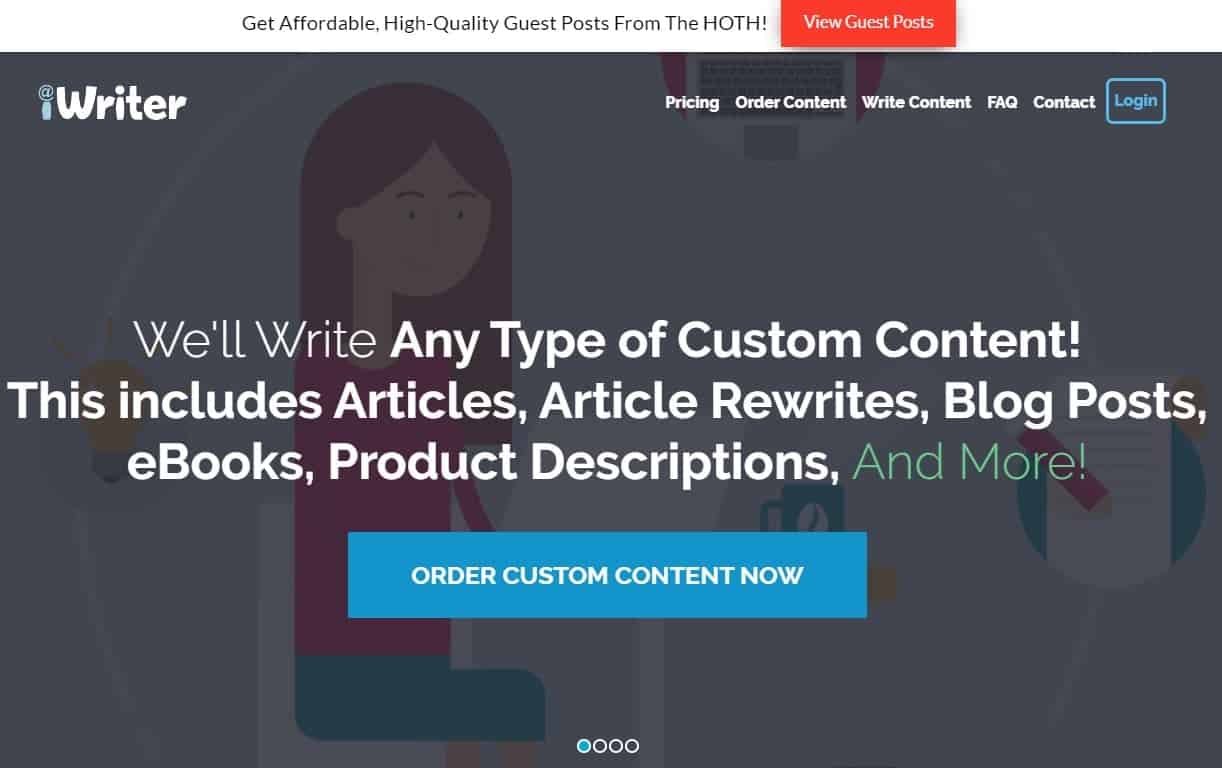 iWriter is a content writing service where you can hire writers to do quality content for you. It has become one of the most popular sites worldwide in which resulted in overcrowding and low-quality outputs.
With the iWriter becoming a crowded place, there is a need to find an alternative. Luckily, we have compiled top alternatives where you can find the best option for you.
Writer Access
This is currently my main content provider.  I'm able to quickly find experts and top-notch writers.  I can order lower cost ($.04/word) or higher-cost, expert content ($.50+ per word).  I usually order $.06 to $.08 per word.
Writer Access is a rapidly growing resource for content creation. It allows you to organize and plan your content flow to fit your specific needs. You have a choice of four different levels of service and tools to choose from sole proprietorships to managed service. It allows you to utilize its tools to organize your own in-house writers or select well-vetted freelancers to create content.
Content Development Pros
I've ordered hundreds of thousands of words from CDP.  They're okay.  Some content was awesome.  Some terrible. Some just okay.  They do a pretty good job for simple stuff like listicles, but when it comes to more complex content, I much prefer Writer Access or my in-house writer.
Textbroker
Textbroker is a content clearinghouse. It takes you order for content, posts it to its vast network of verified writers from the U.S. and those writers choose your order and fulfill your request. If you are satisfied with what the writer has produced, it's yours. If you are not satisfied, you can request edits until you are or reject it and return it to the pool of writers. Textbroker also allows you to compile a team of your favorite writers to create a broader content demand or select specific writers to complete your orders.
Word Agents
Quality assurance is of major importance to Word Agents. They have a highly selective process for approving only the most qualified niche writers available from the U.S. Content seekers are assigned a project manager who distributes your request to writers specializing in your niche. The writers produce content, which is edited and eventually approved through the project manager before being delivered to the client in publishing-ready format.
Textun
In-house native English speaking writers and editors from the U.S. and U.K. are employed by Textun to produce high-quality content in the form of articles, copywriting or eBook format. It allows you to order individual pieces or place a bulk order which is fulfilled through the directives of a project manager. This service is meticulous in its writing and editing process before delivery.
Freelancer
This is the world's largest marketplace for hiring freelancers of all types. You post a project, describing what you need and the broad range of freelancers available will submit bid proposals in order to be selected by you to complete your project. All contact and payment are handled through Freelancer's Milestone Payment System.
UpWork
Similar to Freelancer, UpWork allows you to present your project to their large pool of freelancers. Those freelancers place bids on the content you have presented and you select the one who best fulfills your needs. You can hire via contract or on an hourly basis. Time and contracts are handled through UpWork. UpWork also allows you to create and manage a team of freelancers to fulfill larger requests.
Guru
Guru is an additional option to Freelancer and UpWork on a smaller, but rapidly growing scale. Your project is posted to experts or gurus in any of eight different areas of expertise. They submit proposals for completing your project, you select the one that best serves your needs and the freelancer completes the project according to your instructions. Guru handles all of the contract and time management requirements of your project.
Constant Content
Constant Content allows you a choice of having custom content created or purchasing already prepared or generic content that suits your needs. This platform also has a unique partnership with Shutterstock that can be utilized along with written content. You can choose from Small Business, Agency or Enterprise accounts in order to achieve varying levels of content management.
Fiverr
Finding the right person to complete your project is possible with Fiverr. On this platform, content writers post their expertise and what they are able to do for you at a specified price. If you like what you see in the writer's proposition, then you pay for that particular service.
Gengo
Content for both traditional media and customized AI applications can be obtained through Gengo. This is a company on the leading edge of content generation. It provides services in translation, transcription, copywriting and content summarization using native writers in 35+ languages.
Copify
This is a British based content writing platform with a wide selection of services from which to choose. Besides blogging and traditional website content, Copify also provides services in press release writing and targeted email writing. You can request a single piece of content written by an approved writer or purchase a package of blogs.
Pure Content
Content is available in 120 different languages on Pure Content. This platform specializes in creating content with a localized flavor as well as translating text and combining visual content. It is based in both the UK and U.S. In-house writers prepare customized content that you order.
Copypress
Creativity and return on investment are the focus of content created by Copypress. You are assigned a content strategist who helps to analyze your efforts and then suggest content to improve what you are already doing. Your strategist will handpick a content team and coordinate a delivery schedule that works well for you.
Six Estate
SixEstate utilizes seasoned journalists to create your copy. Besides having a marketing twist, their team of writers creates the most engaging text possible. They work across a broad range of categories and have experts in every field. You can order a onetime piece or a package of content delivered on a regular schedule.
Verblio
A site that used to be called Blog Mutt, Verblio is one of the fastest-growing content producing platforms on the web. Verblio clients order their content and submit it to the job board where writers pick up the work and complete the order. Multiple writers are able to submit to your project, which allows you to choose and purchase the one you prefer. You can select preferred writers and request that these writers fulfill your order and there are a number of managed content options to choose from as well.
Brighter Writing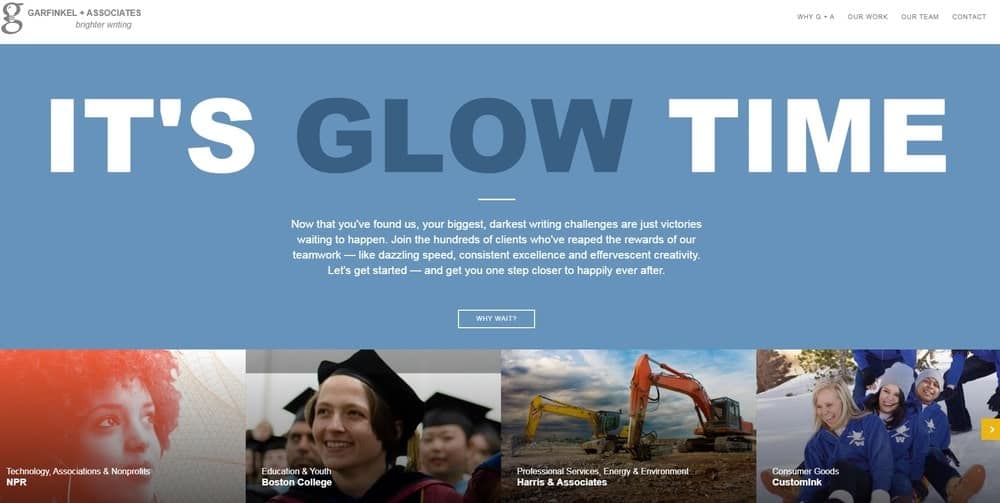 Brighter Writing is a content service offered by Garfinkel and Associates located in Bethesda, MD. You will get a collaborative effort from a select group of writers who specialize in the written word. Submissions for one time projects or extended packages of content are available.
Content Gather
Content Gather is a content writing clearinghouse where you are able to purchase already written content or request custom content. The Marketplace allows you to purchase pre-written content that fits your needs and you have 100% ownership of the material. Custom jobs can also be submitted with a 24-hour turnaround.
The Hired Pens
The Hired Pens is a Boston based copywriting service. They are upfront with the fact that they are expensive, but they also claim to have the very best, a select group of proven, senior-level copywriters in the business. Their strategy is to customize content to your current web presence.
Get A Copywriter
Get A Copywriter only hires the most qualified native English speaking writers to complete your orders. You can submit one time orders or a package of orders delivered at specific times. Content is previewed by editors and is publishing-ready when you receive it.
Contently
You also get a managed style approach to content requests at Contently. This site assigns a manager to take your order, analyze your needs and assign a team to work on providing the very best content. They are highly selective with their freelancers, so you get top quality content from this platform.
All Freelance Writers
All Freelance Writers is a site where freelancers are hooked up with clients who need content. You can either submit your project to the job board where various freelancers will find it and create a bid proposal or you can browse the profiles and portfolios of the various freelancers and select those who you feel will best serve your needs.
Scripted
Scripted makes ordering your content easy by providing a template to fill out. Writers who are qualified in your field will find and match up with you to complete your order, or you can browse through the list of writers to find the one you like most. You can add preferred writers to your list and continue working with the same ones as you continue to order content. Scripted also provides a content management approach if you desire.
Content Cloud
This is a content management platform that allows you to utilize its tools along with your own in-house writers or utilizing the freelancers on the site. You organize, manage and order the content you want or you allow Content Cloud to provide those services to you in varying degrees of involvement.
Skyword
Skyword is a content management platform and has won numerous awards in the industry. It utilizes professional strategists to help you plan and manage when and how you want to manage your content strategy. You can make use of your own in-house talent or allow Skyword to put together a team of content creators to provide you with the content you desire.
Prose Media
You can order your content in individual pieces or in packages of content with Prose Media. They use a five-step process to take your order, put together your team, compose and edit your content and allow you to review and approve it for final publishing.
BKA Content
BKA Content has three different levels of content services. You can use a self-service approach, in which you order content that is picked up by a writer on the site who fulfills your order. You can get a blogging package that will provide you with the content on a regular basis. You can ask for a managed approach at any of three different levels.
Great Content
Another multilingual site for content creation is Great Content. This site has content creators, translators, and editors in over 30 different languages to match up with your content needs. You can order content, editing or translation pieces, take advantage of the expertise of agency management, or browse the marketplace of freelancers to select those who you would like to work with to create your content.
Clear Voice Content
Clear Voice Content offers some attractive content management tools and resources to help you organize and produce what you need. You can put together a team of vetted writers and editors to provide your content. It allows agencies to organize and provide content to various clients. You can also get a full range of analysis and content management service provided by Clear Voice pros.
OneSpace
You get a full-service platform using OneSpace. This platform has analytical and keyword optimization tools for you to plan your content. They also provide content management services as well as assign your project to the writer or writers best suited to complete the tasks.
People Per Hour
People Per Hour is a site that works similar to UpWork and Freelancer. It allows you to post your job on its job board where individual freelancers will select it and provide you with a bid proposal. You can accept the freelancer you like best and allow them to fulfill the contract for you.
Turtl
Turtl is mostly a self-management concept platform. It is primarily used by those who utilize their own in-house talent to organize and create the content they need. Turtl also provides some content management case studies, guides, and resources to allow you to get the most out of your planning.
Writing Studio
Writing Studio is a content writing company that offers a variety of content writing services. They create multiple content types, including blog posts, press releases, technical content, and more. Writing Studio provides a fully managed service for all clients. They research keywords for you, pitch topics, write the content, edit and proofread it, format it to be ready to upload to your CMS and deliver it either as a one-off or on a regular delivery schedule. Writing Studio charges per word, with a lower rate offered for more words ordered.
Jon runs the place around here.  He pontificates about launching and growing online publishing businesses, aka blogs that make a few bucks.  His pride and joy is the email newsletter he publishes.
Hyperbole?  Maybe, but go check it out to see what some readers say.
In all seriousness, Jon is the founder and owner of a digital media company that publishes a variety of web properties visited and beloved by millions of readers monthly. Fatstacks is where he shares a glimpse into his digital publishing business.