Free Alternatives
Pexels
Pexels is committed to adding ten new free stock photos to their archives every day. They've already constructed a significant database, and it will only grow larger over time.
Skitterphoto
All of the pictures available on Skitterphoto are public domain, and many of the photographers provide background and context to the stock images they leave for others.
Epicantus

The Epicantus Tumblr blog is curated solely by a photographer by the name of Daria, but her quality photography is free for anyone to use and ideal for landing pages.
Canva
Over a million high-quality stock photos are available in the Canva database, and a simple category panel on the left of their interface makes browsing a breeze.
New Old Stock
New Old Stock digs deep into the public archives to find free and vintage photographs that provide a deeper look into the past.
Shot Stash
The free photos available through Shot Stash are carefully curated by their editorial team, while a convenient tags feature simplifies the process of searching.
Little Visuals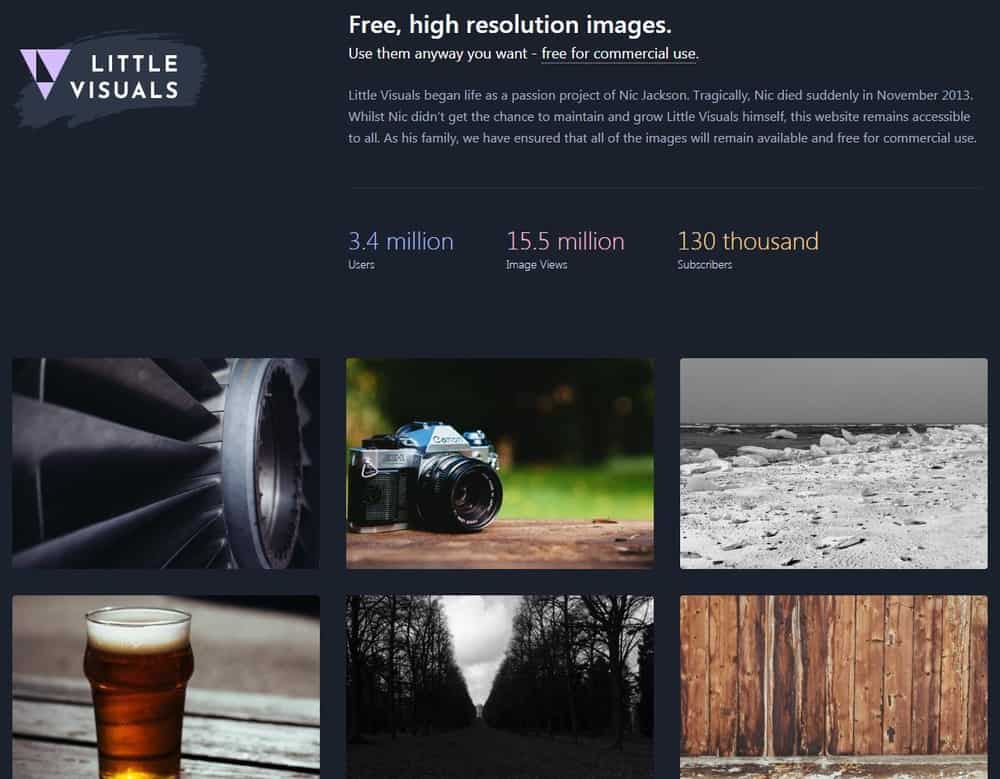 While Little Visuals is no longer being updated, it continues to host an archive of some vivid and truly stunning stock nature photography.
Styled Stock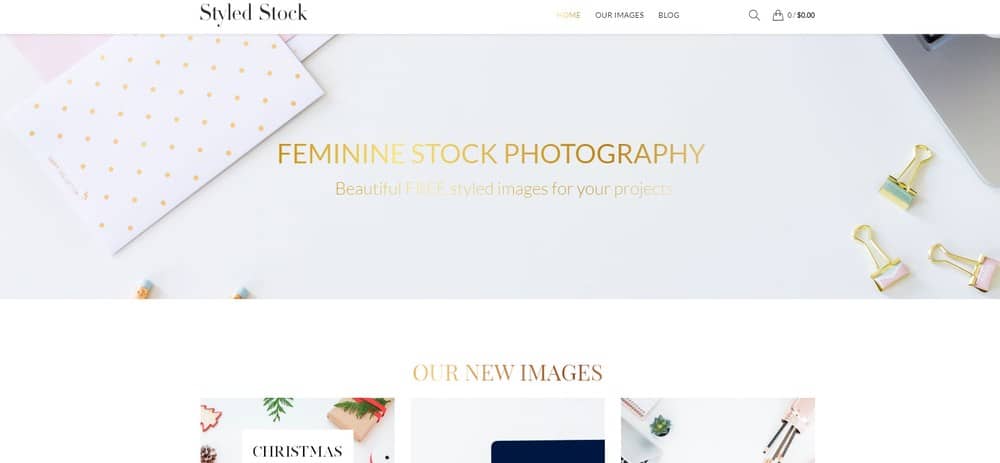 All of the free images available at Styled Stock have a strong feminine flair, and the ability to filter by color is a unique option rarely seen.
Life of Pix
The high-resolution photography in Life of Pix is sourced from a large and engaged community of photographers, and they spotlight a new artist every week.
Stocksnap.io
Stocksnap.io only uses high-resolution images in their galleries, and they add hundreds every week. Combine that with the fact that they're all free of copyright restrictions and you're left with one of the most comprehensive stock photo sites around.
FoodiesFeed
FoodiesFeed fills a specific niche by offering a collection of nothing but food-themed stock images. That makes it an ideal choice for restaurants and cooking bloggers working on a shoestring budget.
Pixabay
International site Pixabay draws on photographers from around the world to produce a free compendium of high-resolution stock photos in a diverse array of subjects.
Unsplash
The Unsplash network draws from over 70,000 contributing photographers, and that's produced a library of free stock photographs that has surpassed half a million.
Reshot
Reshot strives to create photographs that are outside the ordinary. Their house style is distinct from the cliches of traditional stock photography, and their free content packs allow you free access to themed stock photo galleries.
Negative Space
The photos at Negative Space are free to use for both individuals and businesses, and they helpfully break down their pictures into categories like business, music, and technology.
Flickr
Yahoo's image hosting service, Flickr, gives off a strong communal atmosphere and is a great resource for those in search of free stock images.
Barnimages
The high-resolution photos at Barnimages are available to everyone, and they include templates, mockups, and icons that can be used to make any site look professional on the cheap.
Stockvault
Over 126,000 free stock images are stored in the Stockvault. They also come accompanied with textures, backgrounds, and graphics that are also free to use.
Picjumbo
Picjumbo doesn't just upload new photos every week. They work aggressively to add new categories, and you can get free photos sent to your email weekly by subscribing to their newsletter.
Burst by Shopify
Burst by Shopify is one of the largest e-commerce sites in the world has funded their own stock photo site so that their customers can spruce up their storefronts without having to spend a dime.
MMT Stock
MMT Stock has been in business since 2014, and it covers categories ranging from nature to city scenes to macro photography.
Rawpixel
The creative boards' section on Rawpixel offers a unique way to browse through their free images according to spontaneous and user-generated categories.
Jay Mantri
Cinematographer and photographer Jay Mantri host a huge collection of photos from his journeys in the world, and his unique perspectives are free for anyone who wants to incorporate them into their personal projects.
Picography
Picography's diverse selection of free and high-resolution photographs are split up into helpful categories, but it's their hashtag category system that really makes their galleries a delight to navigate.
Albumarium
Searching through Albumarium's collection of free photos is a delight because of its album-based navigation system. Any user can create their own albums with specialized categories and share them with the world.
Pik Wizard
Pike Wizard's expansive selection of images is free for both commercial and personal customers. For power users, their seamless API allows you to integrate their images more seamlessly into your mobile app, software platform, or website.
Paid Alternatives
Getty Images
One of the most serious Shutterstock alternatives is also one of the largest and most versatile. Getty Images is built with professionals in mind, and their tiered pricing plans allow you to scale your stock photo services to meet your needs.
Haute Stock
Haute Stock is carefully curated by its editors and designed to meet the needs of female business owners, creatives, and bloggers. A membership gives you access to their whole library, and many of their images are available in different scales so that you can make them more accommodating to your responsive designs.
Superstock
The artist is king at Superstock. Their photographers get top billing, and they regularly highlight new talent to make sure that there are always fresh new voices front and center on their site. Images can be purchased individually, and pricing is determined by the nature of the stock photo's usage.
Purestock
Purestock is a subsidiary of Superstock, and they take a different approach to rights management. Their subscription model allows you to get more for less, but you can check out their entire library for free by creating a browsing account. The best part is that once you've downloaded an image from their catalog, you own it forever.
Adobe Stock
Adobe Stock is one of the biggest names in terms of creative software, but its design platforms also come supported by a dedicated stock photo gallery. When you subscribe to Adobe Stock, you get access to a wide range of stock videos, images, and three-dimensional objects. Their premium collection can connect you with some of the most trendsetting photographers around so you can create content that speaks directly to your audience.
Death to Stock
Death to Stock understands that stock images can often look rehearsed and repetitive, and that's why they've carefully curated a collection of photographs that are compelling, unique, and narrative-driven. They collaborate hand in hand with their team of photographers to produce monthly photo packs, and each comes with twenty thematically unified photos to ensure that there's always fresh and exciting content for their subscribers. That makes them one of the most unique Shutterstock alternatives around.
iStock
First founded in 2000, iStock is now a subsidiary of Getty Images, but they've managed to maintain an identity all their own. Their marketplace is file with millions of premium images hand-picked by their team of editors, and they work diligently to keep their pricing affordable. And with the consolidation of partner site Thinkstock in 2018, iStock members have access to even more stock photos than ever before.
Twenty20
The reputation Twenty20 has built for itself is impressive. Cutting edge media companies like Hulu, Vice, Pandora, and MTV all draw from Twenty20's diverse library of stock photos when they need content that will stand apart from the competition. Their photos are carefully curated to strip out generic photos and help their subscribers tell more meaningful stories.
Fotosearch
In the world of digital stock photography, Fotosearch is a seasoned veteran. First founded in 1998, they've spent the intervening decades carefully building relationships with some of the most visionary content creators around. They now host digital images from more than 140 publishers, and their stock photos are supplemented by illustrations and clip art. All of their photos come with a 100% money-back guarantee, and they offer licenses for individual purchase as well as providing subscription plans.
Bigstock
Bigstock's pricing model is built to be accommodating to users of any stripe. Whether you're looking to download five images a day or 50 images a month, there's a plan that's right for you. Their impressive stock library is home to over 71 million photos, vectors, and videos.
Crestock
The royalty-free images available at Crestock are both cheap and high-quality, and they're eminently flexible with how you decide to pay. You can purchase photos a la carte, sign up for a prescription plan to get a designated number of downloads per day, or purchase credits that you can pay forward towards future downloads.
Oh Tilly Styled Stock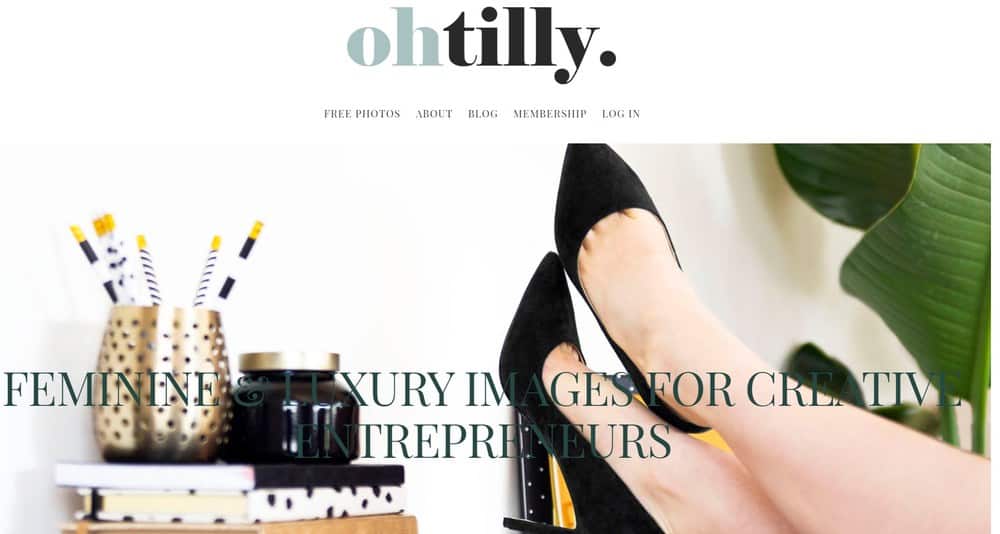 Oh Tilly Styled Stock offers stock photography with a feminine edge overseen by a woman who knows her way around the world of digital design. A membership plan is required to gain access to their library, but they also offer free sample photos so you'll know what you're getting into.
Alamy
The Alamy catalog is composed of over 150 million pieces of content, and they're constantly growing. Over 100,000 stock images are added to their library every day, and there's no need to tie yourself down with a dedicated subscription.

Jon Dykstra is a six figure niche site creator with 10+ years of experience. His willingness to openly share his wins and losses in the email newsletter he publishes has made him a go-to source of guidance and motivation for many. His popular "Niche site profits" course has helped thousands follow his footsteps in creating simple niche sites that earn big.