Summary
Website Performance (Page Load Speed)

Migration Ease

Customer Technical Support

Malware Removal

Pricing
Summary
Over the past 1.5 years I've used both Synthesis and WPEngine. Synthesis outperforms WPEngine.
However, I like WPEngine's technical support, I've since moved all sites to WPEngine.
One big advantage Synthesis offers is price… it's far cheaper than WPEngine.
Comments Rating
( review)
UPDATE May 28, 2018
In 2017 I switched my biggest sites from WPEngine to
Kinsta Hosting
.  Kinsta hosing has been the best hosting service I've ever used.  My sites have never performed so well; they load quickly and Kinsta can handle huge storage volumes (I have lots of media).  This migration to Kinsta was after a couple of years with WPEngine which was after using Synthesis for a couple of years.
All 3 hosting providers are good and do the job; however, Kinsta has been the best solution to date.
Previous updage December 2015:
In November 2015 I migrated all sites from all other hosting services I used at the time (Synthesis, Bluehost and GoDaddy) and centralized them with WPEngine.
The reason for this is that WPEngine's customer support is second-to-none and migration was free and easy with the WPEngine migration plugin.  I still recommend Synthesis, especially if you want premium WP hosting but don't wish to pay WPEngine's premium prices (you pay for their incredible customer support).
FYI, Synthesis outperforms WPEngine when it comes to page load speed.  I tested 2 sites on both services.  You can see the data in my Synthesis vs. WPEngine comparison here.
Finally, I needed a large plan with WPEngine for my larger sites.  This plan permits up to 150 installs so it made economic sense to migrate every site I own to WPEngine.
For most of my online career I used low-cost shared hosting, specifically Bluehost. They're great when starting out because it keeps costs low and they do an adequate job for low-traffic websites.
I remember starting my first blog and researching hosting.  I knew Bluehost was for me because of their reputation and the cost.
Back then I remember reading about high-traffic sites needing expensive hosting.  I couldn't wait until I needed expensive hosting.  It took a few years, but in 2014 it was time for me to upgrade to far more robust hosting for a couple of my sites.
Once I had niche sites hitting 250,000, 350,000 and even 1 million monthly page views per month, it was time to get better hosting.
Fortunately, in recent years, WordPress-specialized hosting companies hit the scene. Synthesis is one such web host.
I Admit It… I'm Synthesis Biased
I'll admit that when it was time for me to get better hosting for my WordPress sites, I was leaning toward Synthesis from the start because Web Synthesis is owned by the same company that owns StudioPress themes.
I've been a raving fan and extensive user of StudioPress themes for years and love them. Therefore, I was predisposed to Synthesis from the start.
Howevever, I spent quite a bit of time on the phone with WP Engine and Rackspace.  At the end of the day, I opted for Synthesis.
I'm not very technical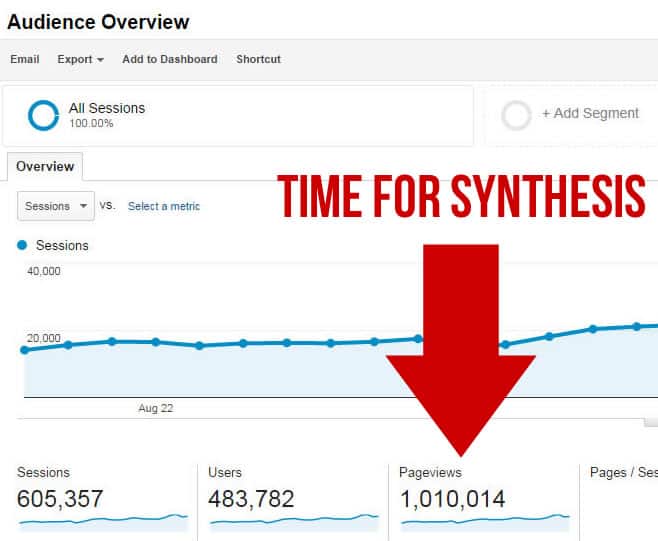 I'm a niche website publisher. I'm not a tech guy. Frankly, I don't know what to look for with respect to hosting specs when it comes to choosing web hosting. I'm not interested in learning.
What I want is a web host that does the job – performance and security are my 2 primary concerns with my big traffic blogs.
It's kind of a big decision
When migrating from shared hosting to more advanced hosting, it's kind of a big job. I had to hire a migration service (Fantasktic) for $99. It's also expensive. My Synthesis plan costs me $147 per month. Therefore, I didn't want to make my decision lightly.
What finally tipped the scales in favor of Synthesis for Me?
It was a few things. They are:
1. Security: They sold me on their level of security. When you read the Synthesis features page, you'll see they place great importance on website security. That's important to me. I don't want crashes and issues. If my site is down 4 hours, that costs me at least $400.
2. It's Copyblogger Media: I've been a StudioPress customer for years. I like their products. I trust them. If they say their hosting can perform, I believed them.
3. Pricing: I needed a web host that could handle 50,000 daily page views.Synthesis offered the perfect plan – namely 85,000 daily page views for $147 per month. That plan gives me room to grow without having to increase my monthly cost.
Also, the same plan permits me to have up to 5 additional domains. I have 3 more niche sites planned. Plus I'm hosting this blog (Fat Stacks) on Synthesis. That's 5 sites. I can add additional domains for a measely $5 per month.
Of course I can't wait until I have to move up my plan because that means I'll have more than 85,000 daily pageviews. More page views equals more revenue.
4. I use the Genesis Framework: While Synthesis can host most themes, it's particularly well-suited for Genesis Framework websites. I use Genesis Framework for my niche sites as well as this site. Therefore, it's a great fit.
Don't expect all the bells and whistles offered by Bluehost
Synthesis doesn't apologize for not offering all the bells and whistles Bluehost offers such as domain registration and email accounts.  What synthesis offers is reliable and secure hosting for WordPress websites.  That's it.
Why did I opt for Synthesis over WPEngine or Rackspace?
It was a tough decision.  I spent a month thinking about it because I knew migrating would cost money so I wanted to avoid migrating twice.  The tipping point was the fact Synthesis is owned and operated by the folks behind StudioPress.  I know that's a fairly lame reason, but StudioPress is an outstanding WordPress theme company so I figured Synthesis would also perform well.
Why didn't I just get VPS with Bluehost?
I've used VPS hosting before and I didn't notice any difference from shared hosting except that it cost more.
Am I happy with Synthesis?
I couldn't be happier.
The migration process was really smooth with the help of Fantasktic.
For new domains, Synthesis installs WordPress for you.
My website loading speed for my 1.1 million monthly page views niche site is decent. I accept that it won't ever be super fast because most of my posts have 30 to 80 large images. No hosting on the planet can load that amount of data instantly.  The site currently has over 6,000 images sized 800 pixels wide (or wider).
Synthesis makes recommendations: I like the fact Synthesis gave me specific, actionable suggestions for improving my site's speed. I implemented most of them. One step I didn't follow perfectly was limiting plugins to fewer than 20. I have 23 plugins on my niche website. I simply couldn't do without them. Nevertheless, my site performs well.
You get the Copyblogger marketing tools included such as Scribe.  I don't really use these, but you might find them useful.
Security:  The level of security precautions is impressive.
I won't regurgitate all the features, you can see them for yourself here.
All I can say is for a publisher of an image-rich, 1 million+ per month page view WordPress blog, Synthesis does a good job.
My One Complaint:
I have one complaint.  Synthesis doesn't offer live chat or telephone support.  I'm accustomed to this type of support with Bluehost.  Synthesis support replies fairly quickly and they offer 30 minute troubleshooting if a site is down; however, it's hard to beat instant live chat and telephone support I became accustomed to with Bluehost.
Did I cancel my Bluehost account?
No.  I still have many sites hosted with Bluehost.  I still use Bluehost as a launching pad for new sites… if the sites do very well, I migrate them to Synthesis.  I currently have 3 sites with Synthesis.
UPDATE December 23, 2015
In November 2015 I migrated every site I have to WPEngine, including my sites with Bluehost.  I like Bluehost for small sites, but since I have a very large hosting plan with WPEngine it makes economic sense to have all my sites (15 in all) with WPEngine.
With my Advanced Synthesis plan, it includes hosting for 5 domains.  I reserve those 5 spots for my bigger sites.  I can add more domains for $5 per month.  Once I have an aggregate of 85,000 page views per day or more, I'll have to upgrade to their highest level plan "Enterprise".
Should you get Synthesis?
Only get Synthesis if you have a high traffic site or you need a little more horsepower.  They offer a 10,000 daily page view plan for $47 per month.  That's 300,000 monthly page views.  I made the switch at about 500,000 monthly page views.
=> Sign up for Synthesis here.
UPDATE MAY 2018:  I no longer use Synthesis.  Instead I use Kinsta for my bigger sites and still have small sites with Bluehost.
Money back guarantee?  Yeah, they offer a 30 day money-back guarantee.
Jon runs the place around here.  He pontificates about launching and growing online publishing businesses, aka blogs that make a few bucks.  His pride and joy is the email newsletter he publishes.
In all seriousness, Jon is the founder and owner of a digital media company that publishes a variety of web properties visited and beloved by millions of readers monthly. Fatstacks is where he shares a glimpse into his digital publishing business.