Ever gone shopping and found yourself in a dilemma? The options put on the table become overwhelming, and you are not sure of what to take and leave. In the same way, business formation can be challenging. You need to file legal documents, and if you misfile, then the worst happens.
I am sure you want to stay in line with government policies and procedures hence the business structure you choose needs to stay on top of things.
Well, the beauty of online incorporation services is that they offer you the opportunity to sit and do things for yourself from the comfort of your home. Kind of a DIY.
These online business formation companies are convenient since they are spread across the United States. Some of the business formation giants include  Legal Zoom, MyCorporation, ZenBusiness, IncFile which are great Swyft Filings alternatives. In my previous post on the above-named formation companies, I went into details about their formation packages and which business structure they serve.
Getting a business formation service aligned with your business needs is one crucial aspect you will appreciate as a business owner. Time and money are saved when a professional handle your needs. The problem is getting the best from the many incorporation services around. Your business launch should be smooth, and thus the reputation of the business formation service company is paramount.
This article will focus on Swyft Filings vs. Corpnet online incorporation services. I will compare pricing, ease of use, additional services, registered agent service, and more.
Related: Best LLC Formation Services Online | Swyft Filings Review | Corpnet Review
Background
Incorporation requires you to furnish the state with specific information as incorporation requirements. This differs from state to state. This information can be, business purpose, corporation name, registered agent, and legal address.
Remember that incorporation comes with some legal benefits. The most significant one is to protect personal property against creditors or legal instigations. The following illustrations can help you understand this concept.
A sole proprietorship or a partnership has personal responsibility for the business's legal liability, including loans and legal proceedings. On the other hand, shareholders, directors, and officers are not liable for their debt. They are limited to the amount they invested in the corporation. Thus, a corporation (Corp) or limited liability company (LLC) can own assets, and if a corporation is involved in a lawsuit or bankruptcy, you cannot seize its assets.
Swyft Filings background: was founded in 2012 as an online incorporation service. As an LLC formation service, they provide incorporation services to small and medium business owners.
Corpnet background: was established in 2009 and offers incorporation services in the 50 states. As an LLC formation service, they will help you with business formation and compliance. So far, they are the best in the industry with their 100% satisfaction guarantee.
To help you understand the process and choose the best business formation service for you, it helps greatly to understand a few keywords you will come across in your application.
Simultaneously, businesses pay tax and receive legal documents to make them compliant with the laws governing the business entities. Thus, it is important to designate someone who you can trust with this kind of work.
A registered agent is a person or an organization that accepts tax and other legal documents on behalf of your business. An LLC registered agent is a requirement in most states and can be from a professional, yourself, or business partner provided they meet the criteria.
These are fees paid to the state for services offered during business formation. They are different across all 50 states. In most cases, this fee is non refundable.
An LLC or  Limited Liability Company is a business structure where the owners are not liable to the business entity's debts. Thus, in debt recovery, the owners are held liable only to the amount they contributed.
This is a company's constitution. It is the manual that lays down the responsibilities of directors and what business to be undertaken.
An Operating Agreement is a document outlining the business' financial and functional decisions. These include rules and regulations and the provisions of the entity.
The document governs the business's internal affairs, and signing it by members of the LLC binds them as the official contract.
Employer Identification Number
It is assigned by the Internal Revenue Service (IRS) to business entities for identification purposes.
What to Look for When Choosing an Online Incorporation Service
Before analyzing the two business formation companies, let us first see what to look for when choosing an online incorporation service.
Remember that incorporating your new business changes your status. Liability moves from a personal level, and hence your assets which you got outside the business as an owner are protected.
Type of Entity
Business structures are very similar in that they sell products and services. Though, there are differences when you start digging deep. This can be in the way of formation or how they are run.
Thus, an LLC is not the same as an S-Corp. Choose a structure that best suits you, and go ahead with the agreements once you are sure of your choice.
Method of Payment
It is important to use the best secure mode of payment. This helps you to work in the comfort of your home or business. A method like PayPal is secure and acceptable by most companies.
Permits
During the process of incorporating your business, you may need to check what is required beforehand to avoid facing obstacles in the middle of the process. Thus, keep up to date with the requirements for a smooth process.
Right State
Tax payments are different in the 50 states, and hence you need to study how each works. Understand the laws governing taxation and tax implications from each state.
Business Information
During your business incorporation process, you will be asked to fill in details to be included in your business. These include contacts and addresses. It is important to have this information beforehand to prevent slowing down the process of incorporation or having to file the wrong paperwork.
Personal Wealth Protection
There are things you have worked so hard to get. They are personal, and you wouldn't want to lose them if a legal battle comes your way. Thus, take proper steps so that the property is protected.
Swyft Filings vs. Corpnet: Incorp Process
Both are great company formation service providers, their services are affordable for the small business owner on a tight budget. They have established themselves among the best companies. Corpnet has an advantage as its formation was before that of Swyft Filings. Choosing which company to go with is tricky since they provide almost similar services but differ in some aspects.
Let's quickly look at the process of online incorporation before diving into the review:
1. Selecting the entity type
There are different business entity types. It is important to choose the right one. Thus, check if you are opening a limited liability company, C-Corp, S-Corp, Non-Profit, DBA, partnership, or a sole proprietorship.
Both Corpnet and Swyft Filings have the same entity types that they help in filing legal documents.
2. Selecting the state of incorporation
There are 50 states in which you can incorporate your business. Choose one that suits you. Remember, state fees and tax structures are different in all the states.
3. Choosing a package
Both companies have three packages. With Corpnet, they have the basic plan at $ 79 plus state fees, deluxe $199 plus state fees, and the complete package $ 249 plus state fees. Note how they follow each other. From basic to complete.
With Swyft Filings, the premium plan costs $299, while the standard and basic costing $149  and $49 respectively. The above cost is minus the state fees. Again note the arrangement from the most expensive to the cheapest. I am not sure if this is a marketing strategy, but if your eyes see premium first, you will likely settle on it before considering the others.
4. Providing business information
The information provided here is two way. One, there is personal information, and secondly, there is the business information.
Personal information is used to follow up with the business owner who has filed the request for incorporation.
On the other hand, the company will use business information once the business has been incorporated. All official communications will use the address and phone numbers.
5. Paperwork preparation and filing of documents
You need to have all documents ready since you need to upload them on the dashboard, simplifying the process as you follow the guided procedure.
With Corpnet, it's a hustle-free and paperless filing. You don't have to present the physical documents.
6. Receiving the complete filing
This is different from both business formation companies. Corpnet's process is only 4 stages and you're done while Swyft Filings' process is a whooping 14 stages.
Swyft Filings vs. Corpnet: Services
In this Swyft Filings vs. Corpnet review, we will look at their services and compare them. In the end, you will be able to make an informed decision about who to run your affairs.
Similarities
Business Formation Services
They both offer online LLC registration services. You get legal advice that goes a long way in ensuring that your business formation process is compliant with the government regulations. Compliance with the legal requirements is of the essence of your business entity is to run smoothly. Bonus point to Swyft Filings since an attorney founded it.
Crafting Operating Agreements
The relationship between business owners is important. Thus, a document that details this relationship is important. With that in mind, Corpnet and Swyft Filings will ensure that they help you craft the Operating Agreement.
An Operating Agreement should not be confused with the Articles of Incorporation. The latter outlines the relationship of the business with the state.
Compliance Support Services
Incorporating a business or LLC formation is not the end of the process. Support services ensure that the business is not faced with problems during operation, in case of a legal proceeding or selling the company. Thus, as a small business owner, you get a compliance kit from Swift Filings and Corpnet to manage your affairs.
Application for EIN
An Employee Identification Number or the Federal Tax ID Number is assigned to a business to help file taxes, submit reports to the state, and apply for business licenses and permits. Just like an individual has a social security number, so does the business have an EIN. Both companies provide this service.
Registered Agent Service
The role of a registered agent is to receive correspondence between the government and the business. Note that the person or company acting as the agent must reside within the state of incorporation.
Swyft Filings provide this service in all 50 states at an affordable option of $149.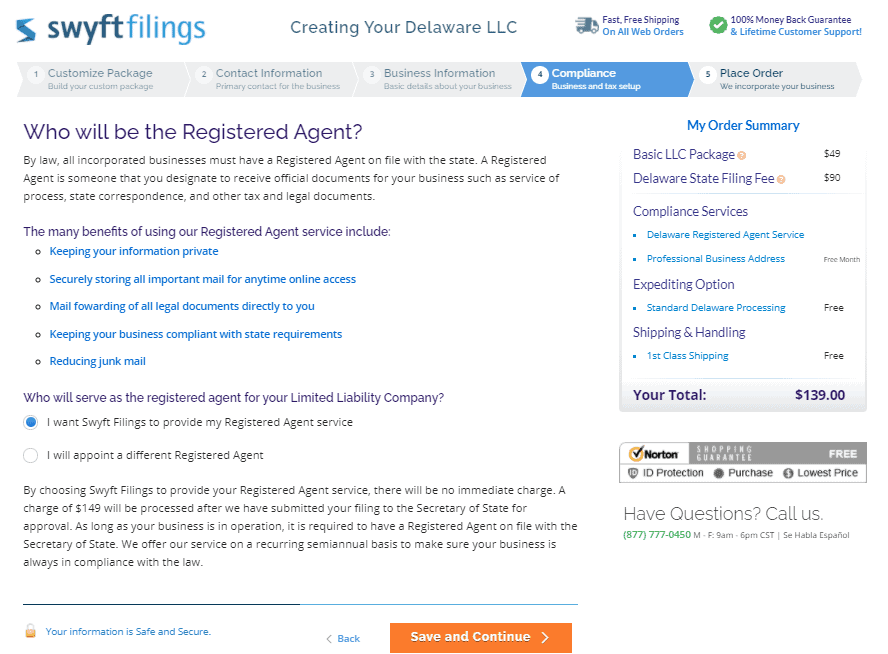 Corpnet offers registered agent services for $149 for one year, which is the same amount asked by Swyft Filings.
Crafting Annual Reports
This document contains financial reports for the LLC and includes financial performance and activities over the past year. All states need annual reports to be filed apart from Alaska and Ohio.
Swyft Filings will help you file the report easily. This is made possible since they have most of your information, and they will do it Starting from $99 plus state fees.
Corpnet, too, provides the same service starting from $89 plus state fees.
Tax Filing Information
The different business structures come with a tax implication that is not the same as the other. Tax affects the profitability of your business. With the formation of a new business entity, it is important to understand the tax system.
Failure to adhere to taxation may result in the business paying penalties and other fees. In the worst scenario, you may be forced to dissolve the company.
As such, Swyft Filings and Corpnet will help you with the filing to make your business running even better.
Getting Started
Both Swyft Filings and Corpnet offer LLC formation services online. They have a personalized dashboard that is easy to use. Efforts have been made to ensure business owners have an easy time navigating through the LLC formation website.
Here, you choose the type of business entity you want. It may be a corporation or LLC, but either way, Swyft Filings, and Corpnet will offer you the chance to form the business of your choice.
It is evident that financial muscle differs across individuals. That is why both companies have different packages to choose from. The plans available are basic, deluxe, and complete. The package name depends on the company but is usually an upgrade of the former.
It is worth noting that an online company formation service is not a legal service provider and should not be considered as an alternative. What they do is file legal forms or documents for you but don't offer legal advice.
Package Plans
On plans, Swyft Filings offers the most competitive package. With $49 plus the state filing fee, you are good to go. It would be best if you were careful when checking the Swyft Filings packages as they are arranged from the most expensive package to the least one. Thus, you might choose the premium package, thinking it is the basic plan.
With the basic package, Swyft Filings will:
Verify the availability of your company name
Have articles of the organization prepared
Online access to your incorporation documents
Free 30 minutes business tax consultation
Compliance guard company alerts
$200 bank bonus offer from Bank of America
First-class shipping and handling
Standard state filing speed
Corpnet has three plans to choose from, just like Swyft Filings. You may opt to use the basic package, deluxe package, or the complete package. Note that the LLC formation package options don't determine how long the process of incorporation will take.
The basic plan at Corpnet offers the following:
The agents at Corpnet will carry out background checks on the name of your choice for the business. That way, your documents won't be rejected due to a similar name in the system.
Official Filed Articles of Organisation
To ensure quick delivery of services, Corpnet staff will help you get your articles filed faster, and you receive your filed paperwork in good time. This is done via email and FedEx.
Free Corporate Compliance Tool (Business Information Zone, BIZ)
The compliance kit notifies you of approaching upcoming tax deadlines and filing of annual reports. With BIZ, you can download legal documents stored in the cloud.
Corpnet offers this feature for free in all three packages. As you start your new business entity, Corpnet reviews, prepare, and submit your documents to the state.
The basic package goes for $79, which is way above Swyft Filings at $49. Corpnet also charges an extra $29 as a shipping fee, making their service a little more expensive.
It is worth noting that the state determines the processing speed. No LLC formation company – LegalZoom, Rocket Lawyer, Incfile or otherwise controls the state processing speed.
However, depending on how fast you want things done, you can pay $310 for a 24 hours processing speed and a delivery in 2-3 days.
From the base plan, Corpnet has the deluxe package, while Swyft Filings has the standard package.
Experience
The longer a company has been in business, the more it is experienced in the matters it handles. They know the ropes and can foresee difficulties if any. In the same case, incorporation is hectic and requires knowledge. As a business formation company, knowledge of government requirements is of the essence to be able to help a business entity to incorporate.
Corpnet is among the oldest in the field, having started its operations in 2009. Though, they have their roots from 1997.
Since its inception, it has provided legal services to over 1 million business entities. They have a passion for seeing new business formation, and with that in mind, they have helped more than 100,000 companies.
Rating
Corpnet prides itself on a 100% customer satisfaction policy. They have gone a long way in ensuring that each client is served to the best of their needs. BBB has accredited them with a rating of A+. The following will show you how they fair in customer reviews.
Swyft Filings has positive feedback from customers, and it is clear that they deliver. They enjoy a high rating on TrustPilot. However, Swyft Filings are not accredited by BBB.
If customer review is anything to go by, then Corpnet is doing a great job in this field.
Swyft Filings opened its doors in 2012. It is run by an attorney who saw the need to change and simplify the business formation process. This he did by automating the process of document presentation.
This has made it easier for entrepreneurs to start new businesses in all 50 states without using attorney services that charge high legal fees. Remember, attorneys fees are charged per hour, which might be too expensive for a new business owner.
At Swyft Filings, you get the company's 100% money-back guarantee if not pleased with their service.
Customer Review
Corpnet is staying true to its word. They execute their business with a lot of professionalism. As a result, they have left their customers fully satisfied with their services. Customers had the best experience and had the following to say.
Swyft Filings has thousands of positive customer feedback.
Swyft Filings vs. Corpnet: Pros and cons
Pros of Using Corpnet
It is easy to form an LLC with them through the easy and fast application process. You have noticed that they only have four steps to follow.
First-year free registered agent service with the deluxe plan and complete package
Affordable formation packages for LLCs which start at $79
Excellent customer service as seen in the customer review and feedback, which has attracted many clients to them
You are sure of 100% satisfaction, and in case you opt-out, you will get your refund back. They enjoy longevity in this industry, which has given them an edge over.
The use of technology makes their services relatively quick and simple.
Cons of Using Corpnet
Registered agent services are only free for 60 days on the basic plan.
No online access to track documents, and as such, you can't follow the process.
The slow turnaround time is around 15-20 days. They have little influence over the turnaround time depending on which  state you want your LLC established.
No business email address, website development, and online access
Their packages are quite expensive.
Pros and Cons of Using Swyft Filings
Swyft Filings haven't been in the business for long, but they have made a name for themselves. They are distinguished among the best online LLC formation services. Thus, below is a highlight of why you should try them out.
Pros
The founder is a lawyer and thus has experience in legal matters.
Affordable registration package
Free 1 year business address
You can pay in two installments.
Digital corporate kit
100% money-back guarantee
Electronic delivery of business documents
Cons
No free Registered Agent Service
Numerous upselling attempts thus slowing the process.
Considerations to make when choosing an LLC Formation Service
It is not every day you form a business, and as such, you are faced with the challenge of choosing the best. Then there is the business jargon, which you might not be familiar with. It slows your process as you try to understand what the attorney you visit tells you. Hence, the following will help you in making that decision.
Packages
With an online LLC formation service, you get to choose from a variety of packages. There is the basic plan while simple document filing is done but does not offer any other value-added services. Then there is the complex formation package that offers numerous benefits to the business entity. Having an understanding of them will help you get the best for your business.
Turnaround Time
The states dictates the turnaround time. Once the documents are submitted to the state and the state fee paid, you wait for the process, which can go up to 30 days. However, some incorporation service companies will push for a shorter time, but you need to dig deeper into your pockets.
Pricing and Value
The price of the formation service is essential. It makes the difference on whether to go with the basic plan or the platinum plan. Comparing the different companies will help you save a dime or two. Who doesn't want some savings anyway? Thus, go through all the LLC formation services and compare what they offer with your needs.
FAQS
1. Which company offers more help with ongoing compliance requirements?
Both Corpnet and Swyft Filings offer ongoing compliance. Corpnet has a compliance portal that helps you remember the requirements of your business and their deadlines. The portal is free and available online.
Swyft Filings also help with ongoing compliance, though this service is not provided with the formation package. They provide it as an additional service, which goes for $99.
Thus, we can conclusively say that Corpnet's offer is the best.
2. How is Corpnet customer service for LLC formation service?
Customer review places Corpnet highly. They have good ratings with an A+ on BBB. That shows that they take care of their customers in the best way.
3.  What is Swyft Filings' customer service like?
Though Swyft Filings haven't been accredited on BBB, they have good feedback on TrustPilot.
4. Why is Corpnet the perfect choice for LLC formation assistance?
Corpnet is perfect for LLC formation because of its experience in the field. Thus, they handle the incorporation process with expertise.
5. What services does Swyft Filings offer?
Apart from the general business formation, they offer registered agent services, LLC operating agreement, digital operating kit, minutes manager, and sales ID Tax.
Conclusion
Starting a business is different in all the states. Looking closely at most online LLC formation services shows that they offer more or less the same services. Overall, there is a difference in how they deliver the services and offer a great customer experience. This is a fact shown by this Swyft Filings vs. Corpnet review. As a new business owner, you would want to be treated with the care you deserve. As such, Corpnet has the best of your interest at heart as an LLC service provider. They have four easy steps to follow and what remains is for them to work and deliver your incorporated company.
On the other hand, Swyft Filings have fought a good fight. Not being accredited by Better Business Bureau (BBB) doesn't mean they are poor at offering services.
They win in terms of pricing and how they have packaged their additional services.
Jon runs the place around here.  He pontificates about launching and growing online publishing businesses, aka blogs that make a few bucks.  His pride and joy is the email newsletter he publishes.
Hyperbole?  Maybe, but go check it out to see what some readers say.
In all seriousness, Jon is the founder and owner of a digital media company that publishes a variety of web properties visited and beloved by millions of readers monthly. Fatstacks is where he shares a glimpse into his digital publishing business.