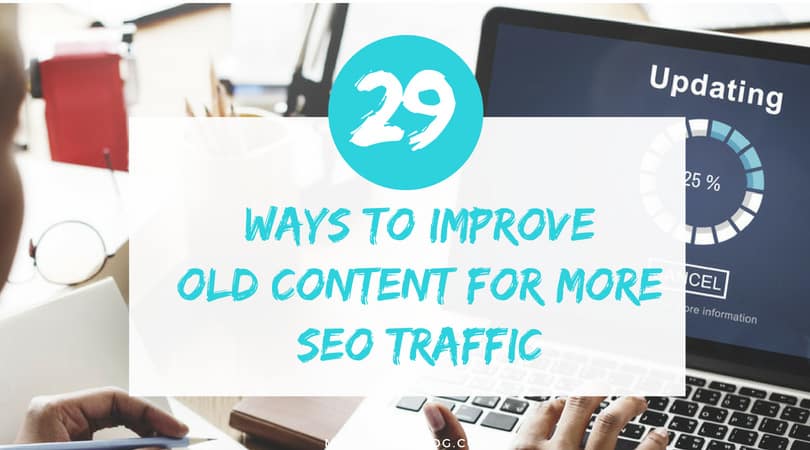 In February 2011 Google rolled out the first Panda update.  It sought to devalue low quality web pages in the search rankings.
It was catastrophic for many sites that cranked out low quality content and/or ended up with plenty of duplicate content.
What followed were herculean efforts by website publishers who took a beating in search to improve their sites in an effort to regain rankings.  Many publishers succeeded by improving existing content.
Since then Google has rolled out many more updates, including more Panda updates and so publishers have improved content reactively since then.
And so begun the practice of improving content in an effort to not only regain rankings, but to improve the rankings of older content.
Up until 2016 I resisted improving existing content for quite some time to my detriment.  I never suffered a major Panda penalty so I never had my arm twisted to improve content.  What I didn't realize then is that I'm sure I had plenty of content that was good conceptually, but simply not good enough to warrant top rankings.
Before seeing the light I deemed the practice of improving content counter-intuitive.
I figured why invest more time and money into something that wasn't knocking it out of the park.  While I often fall victim to the sunk cost fallacy, I considered the act of improving existing content falling victim to the sunk cost fallacy (erroneously).  What I failed to realize was that improving the right content in the right way was a calculated risk that could pay off really well.  When done right, it's certainly not a lost cause.
I also assumed my site would grow more by focusing solely on publishing new content.
2 things happened in 2016 that changed my view of the merits of improving old content.
First, I realized my site had a lot content that Google deemed duplicate content.  For a few years I focused on social media traffic so I published plenty of content to serve social media.  For much of the content I paid little attention to SEO.  A great deal of content was not ranking simply because it was similar to other content.
Second, SEO aside, plenty of content needed improving for users.  I had learned a lot and and new content was much better so there was no reason not to enhance old content and give it a sheen like current content.
And so I started a mega niche site enhancement effort that involved merging and improving existing content.  I do it to this day, although I completed the lion's share in 2017.
The result is I more than doubled my organic search traffic.  I don't attribute the increase solely to improving content since I've also published plenty of new content.  However, plenty of older content that I merged and improved ranks better now than it ever has.
How do you go about improving older content?
It's not that hard, but can be time-consuming.  There are a number of things you can do to most older content to improve it.  I set out many ideas below.  You don't necessarily need to do every suggestion below to each piece of content.  Pick and choose what will truly improve each piece.
1. Do Better/Additional keyword research
If you ignored keyword research or have improved your keyword research skills, doing more KW research for old content is one of the best things you can do.
You may discover that you targeted no good keyword, but the topic itself offers good keywords to target.
You may also discover long tail keywords to also target in the content that you will go after by publishing additional sections in that content.
2. Improve the title
Titles can be tricky.  You want to target your main keyword, but you also want it to entice readers from search engines to visit your article.  It's a melding of technical SEO and tapping emotion or interest.
Perhaps your old title is boring or fails to include a good keyword.  If either is true, improve the title.
Brian Dean wrote a good article on writing effective SEO titles.
3. Lengthen and improve the meta description
The meta description (the text that shows up in search engines below the title) can help entice search visitors to click into your website.
Review your meta description to see if it can be improved.  Include numbers, adjectives (amazing, sensational, etc.) and then enough to inform readers what the article is about without giving away the farm.  Don't give away the farm in the meta description.
4. Write a better introduction
Once a visitor arrives to your site, you want them to stay.  A good introduction can help.  Many websites ignore intros or pay them lip-service.
It doesn't take long to write a personal or interesting introduction that may do a better job grabbing visitors' attention better.
5. Add new/updated information
Adding new or updated information is probably the first thing that comes to most people's minds when faced with improving old content.
While it's usually part of the process, it certainly isn't the be all and end all.  That said, usually there's more information you can add or update outdated information.  This can take a long time or a few minutes, depending on the amount of that needs to be done to bring it current.
6. Add or update stats, data and interesting facts
This is a really easy way to improve the introduction or add excellent and interesting information to an article.
The possibilities are endless.  If at a loss, think history.  When was the subject of your article invented or discovered or first put in use.  That's always kind of interesting.
Think sales volume, market share, industry size, etc.
You can approach this from many angles.
My intro above opens with a simple statistic about the Google penalty (Panda) that gave rise to the practice of improving and updating content.
7. Add quotes from industry experts
I really should do this more.  It's such an easy way to add credibility to content.  It's free and you don't even have to write it.  You just have to ask an expert a question or two.
Anyone who knows anything about SEO will be thrilled to rifle off an answer or quote in exchange for a link.  I do when asked.  This means it's not hard to find experts who are happy to provide the quote.
8. Add an FAQ section
I do this quite a bit on all my sites.  I love adding content in the form of a Q & A because it's great for users and it's so easy to come up with really good content.  All you do is think up a bunch of questions someone totally unversed in the topic and provide detailed answers.
In fact, Ahrefs now has a new "questions" feature for the keyword research tool which will list out questions related to the seed keyword.  It's a great tool that I use often.  However, I don't leave it at that because I can usually come up with other questions.
You can also use Answer the Public and Buzzsumo's Question Analyzer feature.
9. Add and/or replace photos
Perhaps your first time around publishing the post you used one photo or no photos due to budget constraints, time and/or knowledge.  The fact is a few photos or a lot of photos, depending on the niche can enhance content.
10. Optimize photos and graphics
Optimizing photos involves the following steps.
Minimize file size so it loads faster and users fewer resources for storing and loading.
Add an alt text description
What about giving it a better file name?  You want to be careful here because this will change the attachment URL on which the image resides and you may have traffic going there or the image may be ranking well in Google search.  Changing the file name itself may upset these benefits.
11. Add videos
It's hard to argue that videos incorporated into content is a bad idea if relevant.  A good video can add so much information or entertainment.
Moreover, since you last published the content, chances are there are more videos to choose from.
It takes merely seconds to search YouTube and embed a video.
Alternatively, you can create your own video and embed it from YouTube or add it directly to your site.
12. Create custom graphics such as infographic
I love this method of improving content because it can be a terrific content promotional tool as well (on Pinterest and for inbound links).
The downside is it can be costly.  My approach is to hire a graphic designer in the Philippines and to get them to create visual representations of content.  I don't do it here, but in other niches and it works great.
13. Create Pinterest-friendly graphics
Perhaps when you published older content Pinterest wasn't around or was not the traffic monster it is now.  Or maybe you weren't using Pinterest.
I use Canva to quickly create Pinterest pins for content.
If you're now using Pinterest, adding a Pinterest-friendly graphic visitors can pin can be an excellent additional piece of content.
You can use Social Warfare plugin to set up a Pinterest-friendly image that's not your featured image (sizes are different).
Click the Pinterest button on this post using the Pinterest button at top or bottom and you'll see a graphic option that's been created for Pinterest (i.e. it's vertically oriented).
14. Improve heading tag formatting
I'm a stickler for proper heading tag formatting.  There's a proper way to do it, but I didn't always follow proper heading tag formatting.
My approach is to do it hierarchical.  Here's an example
Post title: Heading 1 (usually by default)
First section heading: <2>
Sub-heading: <h3>

Sub-sub-heading: <h4>
Sub-sub-heading: <h4>

Sub-heading: <h3>
Section section heading: <h2>
15. Break up long paragraphs
This is pretty minor, but worth fixing.
If this is all I did to an article, I wouldn't update the date because it's not really updating the article.
It's improving it in a small way.
16. Fix grammar and/or spelling errors
I'm terrible at spelling despite spell check.  I also make grammatical mistakes.  This means most content I seek to improve could benefit from fixing spelling mistakes and grammar errors.
I wouldn't get obsessive about this, but if there are too many, it can detract from the site.  I've been criticized here about my carelessness in this regard.
Use Grammarly to check your content.
17. Add a quiz and/or poll
You can create a relevant quiz and certainly a poll related to any topic.  It's fast, easy, inexpensive (plenty of such software is free) and results in a great content add-on.
I use quizzes and polls in many articles.  I like the data I collect (which I use in content) as well as the feature in the content that offers an engagement option with visitors.
My preferred poll and quiz creation software is Opinionstage which has a free option.
Here's a simple example:
[socialpoll id="2503322″]
18. Improve visual impact with stylized content boxes, quotes and dividers
I like incorporating dividers and quotes but don't use stylized boxes too much.  I should, but I don't because they take time.
Despite my failing to use them much, they can really dress up content in a nice way breaking it up from the usual black text on white background.
You can use a page builder like Thrive Architect or a plugin like Shortcodes Ultimate (I use both).
IMPORTANT: I would avoid using shortcodes built into a theme because if you switch themes, all those stylized effects will disappear.  
19. Add tables
If any content can be represented in a table, use a table.  People love tables because you can glean a lot of information quickly.
For WordPress, I like using the Tablepress plugin.
20. Add charts
I've been on a chart creation kick the last week or so for one niche site.  I have reams of spreadsheets with loads of data I collected over the last year and now I'm putting it all into a series of dozens of charts (bar and pie charts mostly).
Originally I published many of the data-driven posts in bullet lists with the numbers, but it looks so boring.  So, I researched charting plugins and settled on ThemeIsle's Visualizer: Charts and Graphs plugin.  So far I love it.  You can import CSV's or manually input the data.  It's easy to use and the generated charts look good.
21. Embed Google Trends charts
Here's a great little tip for content introductions and that's opening up with quips about how popular the article topic is based on keyword research volume and Google Trends charts.
Here's a Google Trends chart comparing 3 terms related to this post:
Here's some search engine search volume metrics (via Ahrefs):
""Website content": 1,500 monthly searches
"""Blog content"": 1,300 monthly searches
""SEO Content": 400 monthly searches
22. Embed Google Maps
If ever location is relevant to your content, embed a Google map.  You can specify regions, neighborhoods, towns or pinpoint a location.  I use these quite a bit too.
Many top-tier publications create popular content that is really a series of embedded social media posts such as relevant Twitter posts that discuss a particular topic.
You can embed Twitter posts, Pinterest pins, Instagram posts, Facebook posts (and videos), YouTube videos and Tumblr posts.
If ever you need another perspective or supporting anecdotes for content, turn to social media for content.  It's fast, free and very good for users.
Here's an example of an embedded Twitter post:
How a Small Cybersecurity Firm Turned Obscure Data Into Incredible Content https://t.co/cMkThwL2PE #ContentMarketing @contently pic.twitter.com/vr7V84Z15T

— SEO & Social (@SEOtexttool) May 16, 2018
24. Add a table of contents
I put a table of contents toward the top of content on pretty much all articles that have 4 or more headings.  I love using them because they create links to individual sections within a post (great for linking pins on Pinterest to).
TOC's are also great for users.  I love them because it enables me to consume content faster because I can jump to sections I'm interested in reading.
I use the free Table of Contents Plus plugin.
25. Add strategic opt in form(s)
If you want subscribers or you want to offer upgraded content, do so in the form of a cheat sheet, white paper, special report or whatever you want to call it.  The key is readers must sign up to your email newsletter in order to get it.
I do that her of course and to a lesser extent on my B2C blogs.
26. Add internal links
This is a hugely important content updating task that can help your entire site SEO-wise.  When you upgrade older content, it's a great opportunity to add links to newer related content that you never go around to doing when you published that new content.
I add internal links whenever I upgrade a piece of content.
27. Add better/more outbound links
Chances are you didn't do much outbound linking a few years back but perhaps now you do.  If so, when updating content why not add some great outbound links that your readers will find useful.
Updating content is also an opportunity to fix broken links.
28. Merge it with other thin content on your site
Sometimes you'll realize older content is not very good and there's no good way to resuscitate it so that it's worthy of your current standards.
What do you do?
You can delete it and call it a day.
Or…
You can merge it with other content to make the other content even better.  If your site is large enough, there's probably almost always another article you can add old, thin content to.
I merge content quite a bit, especially when the two pieces are similar resulting in duplicate content.
29. Update the date to current day when you finally click "update"
Assuming you add content in some form or other, don't forget to update the date to current date when done.  Here's how you update the date for a WordPress blog post: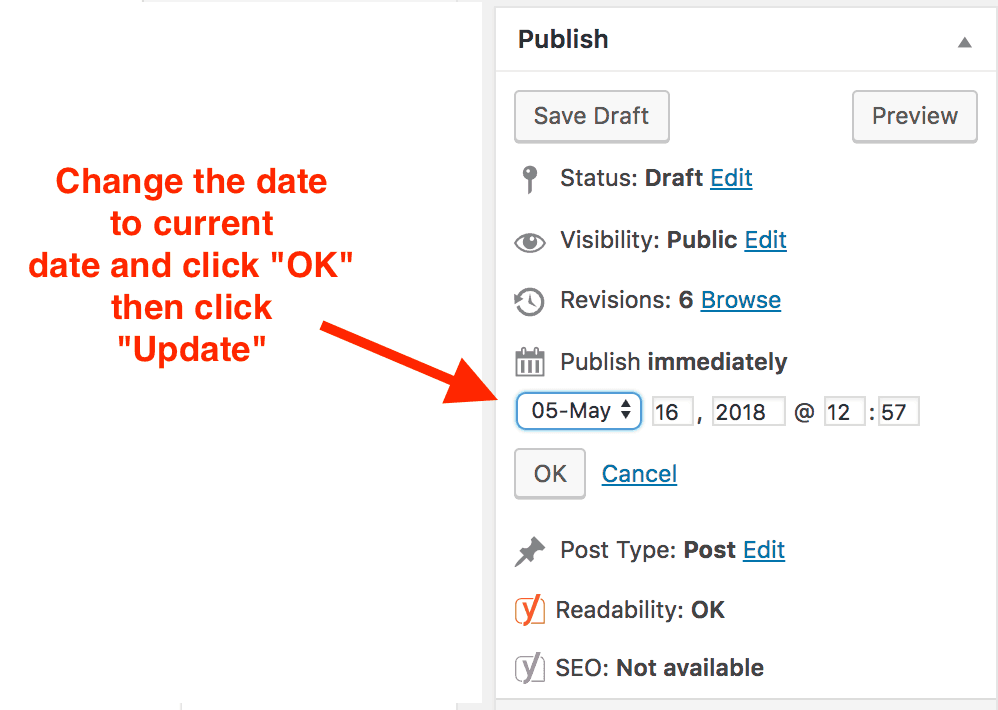 Jon Dykstra is a six figure niche site creator with 10+ years of experience. His willingness to openly share his wins and losses in the email newsletter he publishes has made him a go-to source of guidance and motivation for many. His popular "Niche site profits" course has helped thousands follow his footsteps in creating simple niche sites that earn big.