Email marketing doesn't have to be complicated. If you've worked with email marketing before, or setup your own, you know that there are multiple web-based email platforms available. These email marketing platforms are designed to automate the basics of email campaigns, while also analyzing the success of the strategies. AWeber and MailChimp are both email marketing platforms with similar features but different advantaged and disadvantages.
My experience with both AWeber and Mailchimp
I'm currently using both platforms.  I use AWeber for a few lists and Mailchimp for another list.  I explain why I use two email marketing platforms here.  At the end of the day, I'm very familiar with both options.  Each have their pros and cons.  I give verdicts at the end.
What is

AWeber

?
Founded in 1998, AWeber is a robust email marketing tool driven by a mission: to connect businesses with the resources they need to thrive. AWeber is used by over 100,000 businesses and their marketing campaigns, for the purposes of email marketing automation and analysis. Guided by their six core values, AWeber puts customer service at the heart of its product line. While it is a paid service, there are free trials available for those who want to test out the products capabilities before using it.
Who should use AWeber? AWeber is good for both beginners and more advanced marketers. It has a low barrier to entry and makes it easy to get started, both on the side of the user and the side of the marketer. It's quite important that marketers make their system to use as possible, as users need to sign up for newsletters and interact with emails.
What is

MailChimp

?
A popular email marketing utility, MailChimp includes everything from landing pages to basic customer relationship management. MailChimp is known as one of the easiest to use utilities for email marketing, and has been working to update its features for a modern look and modern marketing strategies. It's best known for having a free service that is ad-supported, so individuals interested in starting their marketing campaign can get started without significant barrier to entry.
MailChimp is often recommended for beginners because it is a free service and lets people experiment. For those who are always going to have a marketing campaign that's on the smaller side, because the charges are only incurred after the first few thousand users. But that doesn't mean it's the most approachable for beginners.
AWeber

vs.

MailChimp
If you want to start a marketing campaign, both AWeber and MailChimp are great choices. Fully-featured platforms, they can provide nearly every function a marketer desires, including in-depth analytic services and the ability to guide leads through their buyer's journey.
But there are some notable differences between the two platforms as well, and some marketers may find themselves gravitating towards one over the other.
What follows is an in-depth review of AWeber and MailChimp, including the reasons a marketer or business owner might choose one over the other. This includes everything from user experience to pricing.
Front-End User Interface
User interfaces, such as registration, are one of the most overlooked and important parts of a web-based mail platform. Many people want to focus on the back-end, but it's the front-end that users are going to experience and decide whether they want to move forward with. Both AWeber and MailChimp provide slick, well-designed user interfaces. AWeber has some advanced features such as the ability to add audio and video.
MailChimp now has a dated look to its user experience, which is surprising given that it does try to update its templates to modern standards. Keep in mind that today's users are most frequently on mobile devices, and they demand streamlined visual experiences.
That said…
I use OptinMonster and Leadpages for front end forms and landers.  While AWebers built-in optin options are better, I prefer third party solutions.
Ease of Use
MailChimp is often touted as one of the most easy-to-use platforms available. But that doesn't mean that it's the easiest to use. MailChimp tends to be more approachable due to its cost, which encourages people to try to make the system work for them.
AWeber is also extremely similar, and many would say that it's just as easy to use as MailChimp. AWeber tends to simplify processes and has more proprietary features rather than third-party solutions, which means it can be a more consistent and comprehensive platform once the initial learning curve is countered.
Verdict:  I find AWeber far easier to use than Mailchimp as a platform.  However, Mailchimp has one HUGE advantage and that is you can copy and paste content from visual editors into it without any formatting problems.  When I copy and paste blog posts into AWeber, the formatting isn't very good.
Preview Systems
This is one area in which MailChimp does excel. MailChimp lets you preview your emails before you send them, so you know how users are going to experience them. Users have many email clients and devices that they use. Not knowing how they will render emails can hold you back.
That being said, many are moving to more standardized rendering, and compatibility issues have lessened substantially. If you always want to know exactly how your emails are going to be depicted on the side of the client, MailChimp can help.
Landing Pages
Both AWeber and MailChimp will let you customize personal landing pages through their service. Landing pages are a critical part of a marketing campaign. A landing page makes it possible to give a user a custom pitch based on the email that they interacted with.
AWeber makes it possible to create very engaging landing pages that include audio and video media. This gives it a general edge for landing pages, in addition to being able to track analytics in its own analysis system.
If you're creating landing pages for many of your customers, there's also another advantage. Stock photos, which are discussed below.
Stock Photos
When you want to add media to MailChimp, you need to look it up. This doesn't have to be a terrible thing. There are services such as Getty Images and Pixabay for stock photos, but it does mean that you have to go through an additional step.
On the other hand, AWeber has stock photos built in, which means that it has a clear advantage in this area. You'll be able to look through royalty-free images whenever you want, and that streamlines the process of creating attractive emails.
Deliverability
AWeber has the ability to get greater levels of deliverability for a very interesting reason. MailChimp lets you turn off double opt-out, which streamlines the opt-in process for email signups. Most people automatically turn off double opt-out when they setup their system, because they want people to be able to opt-in as easily as possible.
But that comes with some issues, most notably that emails are more likely to be labeled as "Promotions." This isn't a problem necessarily with MailChimp itself, but it does make it more likely that your emails are not going to be seen.
TIP: AWeber will let you turn off double-optin, but  you have to ask and in order to be approved, you need an account in very good standing.  This protects the deliverables IMO.
Pre-Made Templates
You probably don't want to carefully craft every email on your own, and you shouldn't have to. Both AWeber and MailChimp provide a large number of templates. AWeber has 150 templates, whereas MailChimp has about 80.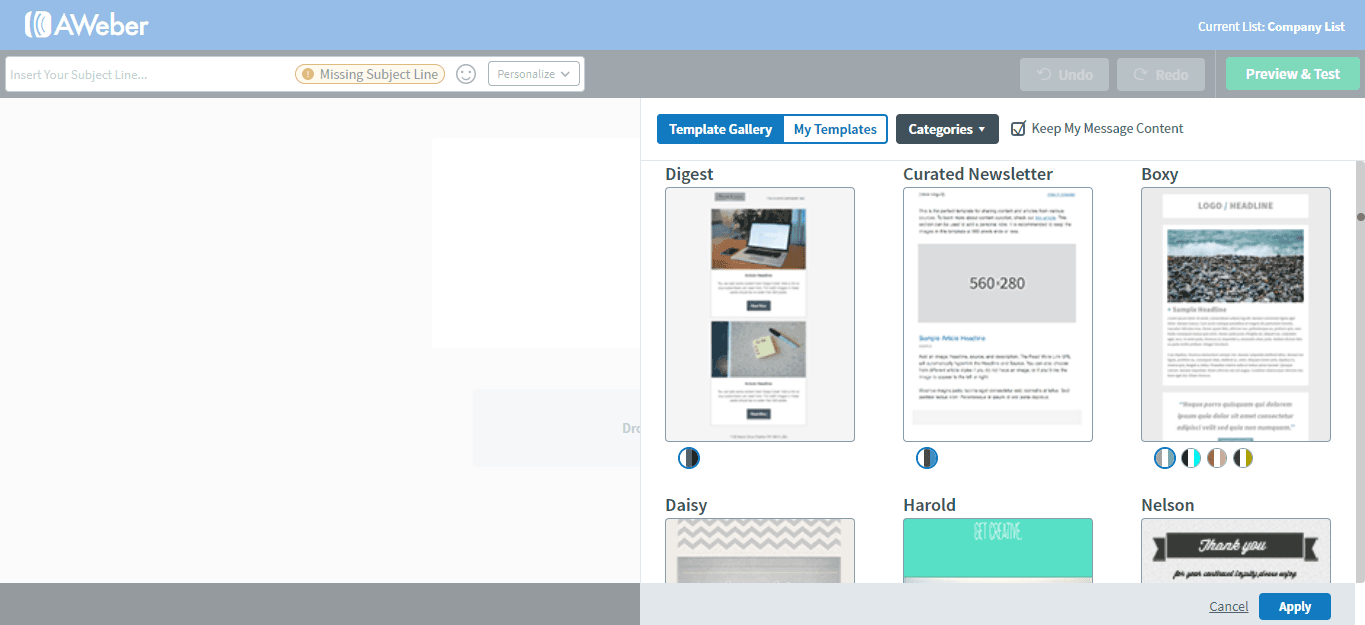 Which templates are better really depends on personal preference, but there are a few reasons why AWeber is preferable. AWeber doesn't just have more templates, but they also have more diverse templates. AWeber's templates tend to be sleek and modern. MailChimp errs towards two or three column layouts, which were all the rage for some time, but no longer translate to the mobile world.
That said…
Mailchimp's visual editor is far superior to AWeber's visual editor.  I can craft nicer custom templates and email messages in Mailchimp than AWeber.
Verdict: Mailchimp offers better email formatting and custom template creation options.
Third-Party Integration
Both AWeber and MailChimp are pretty much equal when it comes to third-party integration. Third-party integration is a great boon when you want to add complex features. As an example, customer relationship management features can be used directly within the platforms for a more cohesive customer experience.
If third-party integration is important to you, look up which platform supports the integration that you desire most. The most common ones like Salesforce are going to be available on either platform, but more obscure ones may only be available on one or the other.
Email Automation
Automation is becoming increasingly important in a world where marketers don't want to have to manage every little thing. AWeber provides "campaign management," through which you can tag and trigger emails to customers as desired. MailChimp has more robust automation features, but they're also more difficult to implement and manage.
When it comes to automation, it doesn't have to be that complex. Automation has to be done in a way that is intuitive and approachable, and that doesn't always mean having the most complex features. It should be noted that third-party email automation features are also available.
My one beef with Mailchimp is that if you use automated sequences (pre-written emails that go out in a sequence) you have very few options for removing subscribers who don't open emails.  I'm sorely disappointed with this as I rely on sequenced emails for my lists but like to scrub subs who don't engage (good for them and me).
Verdict: AWeber (by a long shot).
Segmentation
Admittedly I have not used AWebers Campaigns feature so I can't speak about that feature, which is probably very good.
However, when it comes to segmenting lists, Mailchimp's filtering and sorting is very, very good with many nuanced options.
Verdict: Mailchimp
Reporting
Detailed reports and analysis are how you know whether your marketing strategies are working. Without analysis, you'll never be able to adjust and optimize your plans.
AWeber has their own internal reporting system, which pares down to the information that is most important to the marketer. MailChimp instead uses Google Analytics. Many companies and campaigns use Google, but MailChimp does suffer somewhat for not having its own proprietary system available.
That being said, many people prefer Google Analytics because they're familiar with it. You may already be using the Google Analytics service if you're doing web marketing too, which means the fact that AWeber doesn't have Google Analytics could be a complication rather than a boon.
Support
AWeber is the clear winner when it comes to support. AWeber support is available through email and phone, practically any time. If you want to be able to setup something with ease, AWeber is the solution that's right for you.
Moreover, AWeber's live chat support is superb.  I've seldom used software with better, kinder and more knowledgeable support.
MailChimp does have support available, but it can be hard to get in contact with. This is one of the larger failings of having a system that's designed to support free users. There aren't enough resources available to support all the users with equal levels of responsiveness.
If you go with a paid Mailchimp plan, while they offer live chat support, you usually have to wait a long time in a queue and I don't find their support staff to be as nearly as friendly or knowledgeable as AWeber.
Some marketers need a lot of support. Other marketers want to be able to do their own research. It depends on your method of doing things and whether you're doing things that are more complex or advanced.
What about documentation? MailChimp tends to have a more active community behind it, but that doesn't mean that its core documentation is superior. It's possible to find more answers online regarding MailChimp because it has more active users, but that doesn't necessarily mean that its faster to find answers. For AWeber, it's faster to find answers through official support channels. They are also more likely to respond to complaints effectively and to fix problems that customers have.
Verdict: AWeber
Back-End User Interface
We've discussed the front end, but what about the back-end? When it comes to marketing platforms, especially older ones, back-end interfaces tend to be fairly clunky. They often are designed once and then items are added to them from time to time, growing organically in a way that isn't always well-designed.
MailChimp's user interface is serviceable, but it could be a little more straightforward. AWeber has gone to some substantial effort to streamline its interface and guarantee its usability.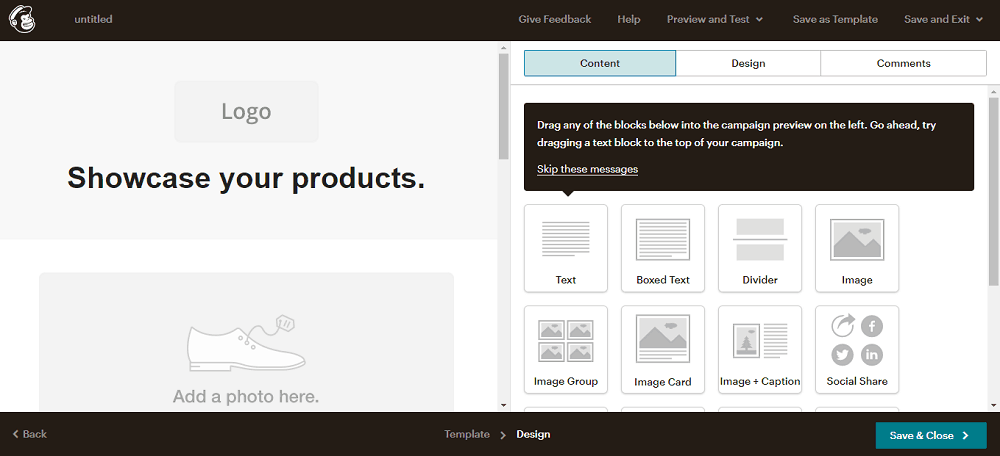 Both backends work well and give the user a good sense for the options available, so this may come down to preference.
Cost Differences
MailChimp has a free plan, which is why so many people tend to use MailChimp first. 2,000 subscribers can be supported on the free plan, but there's going to be a banner ad in all your emails. That's not always a great thing, especially if you're trying for professionalism and credibility. Once you jump up to 5,000 subscribers, you'll need to pay about $50 a month.
AWeber has a free trial so you can try it out, and it begins with a plan for $19. The cost of AWeber is ultimately going to be about the same as MailChimp, the caveat is just that you can't try it out long-term for free first.
A lot of people like that MailChimp is a pay as you go service, but costs can climb with MailChimp quite unexpectedly because the costs will spiral as your marketing contacts grow. If you want a system that will reliably scale with you, AWeber is more likely to be the superior option.
AWeber pricing advantage is that you pay a straight-up fee for the number of subscribers you have.  Note that you are charged for unsubscribes as well so be sure to get those deleted shortly before each billing date.
Mailchimp pricing is complicated.  You pay for a plan based on the number of subscribers but then you can be dinged if you send a certain amount of emails each month.  I loathe Mailchimp's pricing because I never know what it's going to cost me.
Verdict: AWeber
The Bottom Line
As you can see, AWeber and MailChimp actually have more in common than they have different. Both of these are more than adequate services and it's very likely that either will be a good solution. There are very few marketers who will find one of these solutions less useful than the other, specifically because they have such similar features sets.
But you do need to choose one of these services, so which of these services should you be using?
Verdict:
If you want a simpler user interface, AWeber is best.
If you want features and more sophistication with your email marketing, Mailchimp is the way to go.  Just be prepared for a long learning curve and put a helmet one for when you bang your head against your keyboard.
If I had to choose one, I'd go with AWeber just because 99% of the time I prefer simple over bells and whistles.
Jon runs the place around here.  He pontificates about launching and growing online publishing businesses, aka blogs that make a few bucks.  His pride and joy is the email newsletter he publishes.
In all seriousness, Jon is the founder and owner of a digital media company that publishes a variety of web properties visited and beloved by millions of readers monthly. Fatstacks is where he shares a glimpse into his digital publishing business.