Adsense Matched Content Review Summary
Effectiveness (More Page Views)

Ease-of-Use

Design

Revenue Generation (Can place Adsense Unit above OR below)
Comments Rating
( review)
15 days ago I logged into my Adsense account and discovered a new unit called "Matched Content".
Since it's a new Adsense offering, I decided to give it a try.
Before adding it to one of my niche sites, I carefully read all the information Google published about Matched Content Units.
I strongly urge you to read Google's info about Matched Content units before deploying them.  It's always best to know what you can and can't do.
Update November 21/16: Better Appearance
Recently Google updated the appearance of these units.  I think they look WAAAAAAAAY better.  Here's an example:
They're not available for every site (currently)
The Matched Content units are not currently available for every website.  Google only approved it for one of my sites.
I suspect not every Adsense account holder has the option for Matched Content units.
I have no idea if they'll be made available for every website down the road.  I believe at the time this post was published, it's a beta offering.
If you have an eligible site, you'll see the following announcement in your Adsense account:
What are Matched Content Units?
They're Google's first "related content" style widgets.  Essentially they display a horizontal or vertical list of thumbnails and links to other content on your site.
The above image shows a horizontal example.
They're unique in a number of ways:
Scroll instead of creating a grid.  Visitors can scroll the unit which presents more related content links.
They do generate some ad revenue:  While the lion's share of clicks generated with these units are clicks to other pages on my site, my Adsense reports do show that somehow these units have generated revenue.
How do you create these units?
It's really simple.
In your Adsense account, click "My Ads" and then "+ New ad unit".
Here's a screenshot of what to do next: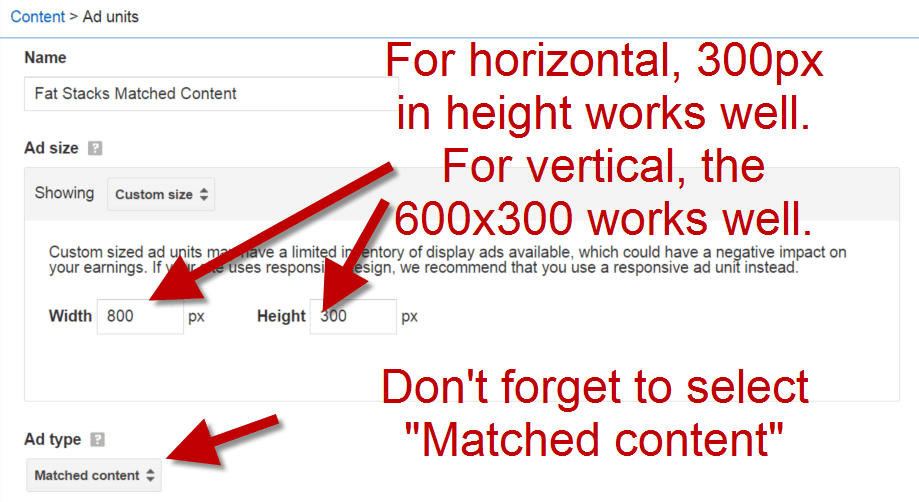 A couple of things to note:
 I create a custom size so it's sufficiently large to display multiple related post suggestions.
The width of the unit will depend on the width of the area in which you will place these units.  For my approved site, 800 px wide works.
Do Matched content units themselves earn you money?
Yes they do, but not much.
I'm not sure how it works, but I believe on occasion ads are displayed within the unit.  I'm only guessing this, but I've noticed revenue from my Matched content units.
But, the revenue is not the reason I'm using these units.
I use Matched content units because they generate more page views fairly effectively.  Over the course of 1 week, I generated an additional 3,813 clicks which is 3,813 additional page views.
I also use them because they offer a great opportunity for ad unit placement, which is placing a regular ad unit either above or below the Matched content units.
The best way to use Matched content units is as follows:
Google suggests to place an ad unit either above or below Matched content units.  You can read this suggestion by Google here.
The important wording here is "either…or".  What I take this to mean, and I'm sure this is intentional, is that you cannot place Google ad units both above and below.  That's my reading of the rules.  I could be wrong, but I'll err on the side of caution.
I suggest if you use Matched content units to test ad units either above or below.  For me they're performing reasonably well.
Another suggestion is to test a link unit above or below.  I'm doing this too and the results aren't bad.
The point is twofold:
1. Read the Matched content policies carefully; and
2. Test various sizes, orientations (horizontal vs. vertical), devices, placements and surrounding ads.
Do Matched content units count toward your Google content ad limit per page?
No.  They're in addition to what's allowed. Google sets this out here.
In other words, you can still publish 3 ad units, 3 link units and 2 search boxed per web page.  Matched content units are in addition to these permitted allotments.
How many Matched content units are allowed per web page?
I read every piece of information I could about these units that Google published and did not find any restrictions.
However, that doesn't mean tomorrow this could change.  Please, read the policies yourself.
I currently have 2 units per web page – one just below the fold and one at the bottom of the content.
Can they be used on any device?
Yes, they can.
Because it's a scrolling related content widget, it's not bad on mobile devices.  People can scroll the box and find related content.
They're particularly good on tablets and desktop for me though.
A few things to note after 10 days or so:
 They can generate some revenue on their own.
I find placing them in content is more effective than a 300×600 sidebar unit.
I find they're more effective on desktops and tablets than smart phones.
They offer a terrific opportunity to place a regular Adsense unit either above or below the Matched content unit.  I also suggest trying a link unit above or below (but don't place a link unit above and an ad unit below or vice versa… my reading of the rules is that it's one Google ad unit EITHER above OR below.
They're effective at generating more page views per visitor (but then most related content widgets attract clicks).
Test everything: placement, surrounding ad, link color, devices, etc.
Should you use them?
If you have an eligible site, yes, give them a shot.
They work well for me so I keep them on my site.
Adsense Matched Content Review Summary
Effectiveness (More Page Views)

Ease-of-Use

Design

Revenue Generation (Can place Adsense Unit above OR below)
Comments Rating
( review)

Jon Dykstra is a six figure niche site creator with 10+ years of experience. His willingness to openly share his wins and losses in the email newsletter he publishes has made him a go-to source of guidance and motivation for many. His popular "Niche site profits" course has helped thousands follow his footsteps in creating simple niche sites that earn big.